Blogroll: The Proclaimer
I read blogs, as well as write one. The 'blogroll' on this site reproduces some posts from some of the people I enjoy reading. There are currently 11 posts from the blog 'The Proclaimer.'
Disclaimer: Reproducing an article here need not necessarily imply agreement or endorsement!
The Proclamation Trust
Updated: 1 hour 4 min ago
One of many highlights at EMA 2018: The Unsearchable Riches, was singing together.
Here is a recent blogpost containing the setlist of everything that was sung at EMA 2018.
https://www.alleyns.org.uk/page.aspx?id=1486
See our new Mannequin Challenge Promo Video for EMA 2018 here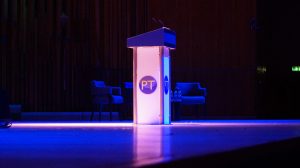 There are just 27 days until our flagship, Evangelical Ministry Assembly Conference 2018, at the Barbican Centre.
The programme is looking really good with Vaughan Roberts, James Hamilton, Andrew Atherstone, Sam Allberry, William Taylor, Adrian Reynolds, Christopher Ash, Carrie Sandom, Andrew Sach, Gwilym Davies, Nigel Styles, Rico Tice and David Jackman.
Plus input from John Stevens, Willie Philip, Ray Brown, Richard Perkins, Gareth Lewis, Stephen Boon, Jonty Allcock, Johnny Prime,  Claudia Chan, Kevin Croft, Mike Gilbert-Smith & Aderemi Adedire.
Added to this an amazing bookshop by 10ofthose.com, great music by Andy Fenton plus band, lots of organisation exhibiting and all in the iconic Barbican Centre in the Heart of London.
There is also the opportunity to go on a Christian Heritage Walk around the City of London, enjoy fellowship with evangelical leaders from across the UK and around the World, hear about the work of Cornhill/CrossConnections and help with an amazing Missions Project in Zambia.
The Evangelical Ministry Assembly – 12th – 14th June
Book your tickets at www.proctrust.org.uk/conferences
We look forward to seeing you there…