Blogroll: The Good Book Company
I read blogs, as well as write one. The 'blogroll' on this site reproduces some posts from some of the people I enjoy reading. There are currently 14 posts from the blog 'The Good Book Company.'
Disclaimer: Reproducing an article here need not necessarily imply agreement or endorsement!
The Good Book Blog
Updated: 1 hour 24 min ago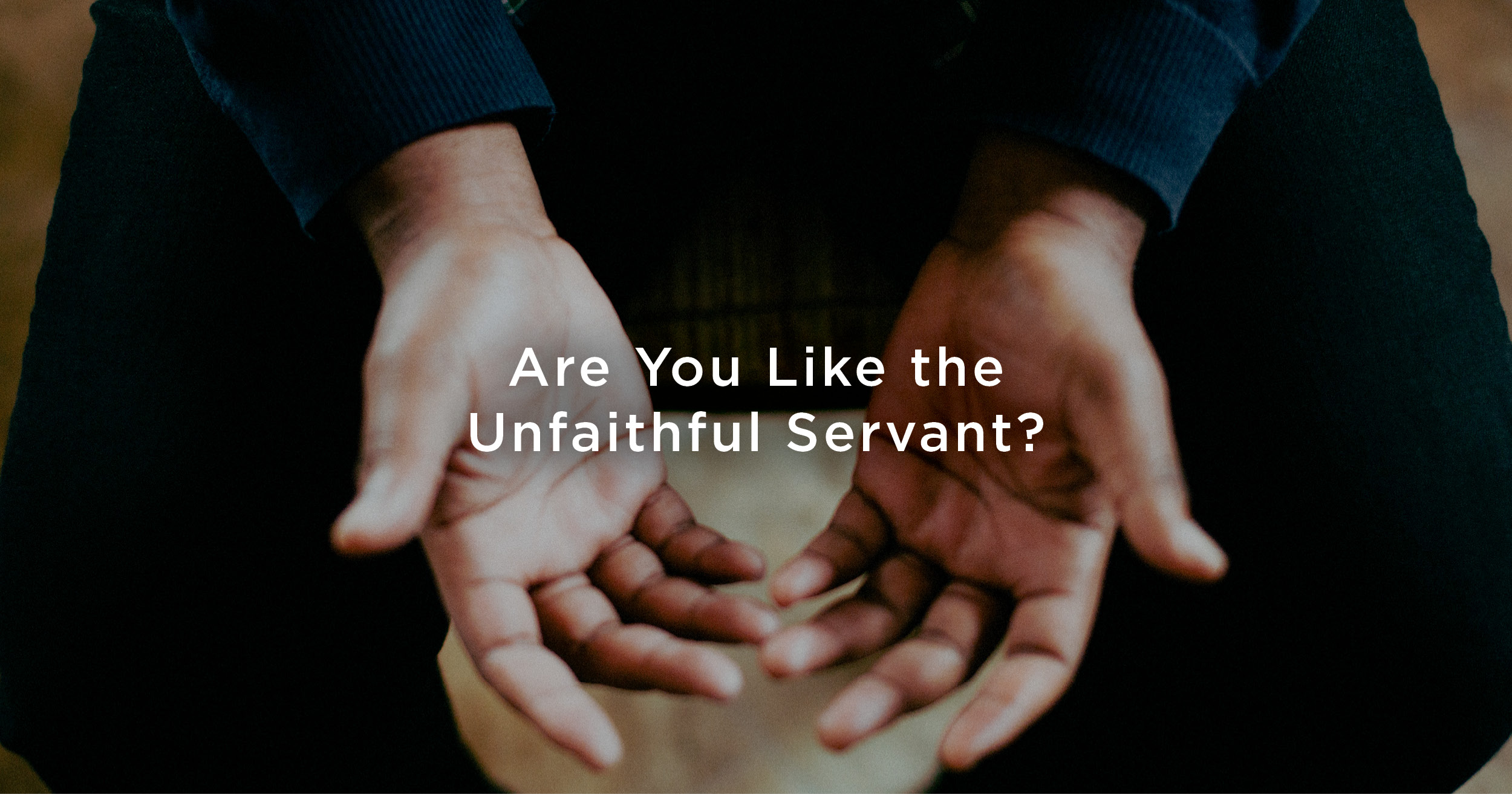 There is such a thing as unfaithful service. What does that look like? We're given an example in the parable of the talents in Luke 19:11-27.
The Unfaithful Servant's Story
It goes like this: a nobleman has to leave his country to receive a kingdom. Before he sets off, he gathers ten of his servants and gives them each a portion of his treasure (a mina—about three months' wages) to do business on his behalf while he is away. So the man leaves, is crowned as king and then returns to his country.
On his return, he starts making enquiries about his business affairs and the work of his servants. Calling them in, he's made aware of two servants who have been successful with the portion of treasure that he had left them to manage. One has increased the mina ten times and the other five times. The king is delighted and rewards them with what appears to be a disproportionate bonus—one will have authority over ten cities and the other over five. 
But then he speaks to a third servant, and his report could not be more different. This servant stands before the king with the mina in his hand, reporting that he kept it wrapped in a handkerchief and buried in the ground.
Before the king can ask why, the servant just comes out with it: "I was afraid of you, because you are a severe man. You take what you did not deposit, and reap what you did not sow" (v 21).
Why Was the Unfaithful Servant Unfaithful?
Why did the servant believe this about the nobleman, when he was clearly a generous master who rewarded his servants richly for their work? The clue might be found in verse 14: "But his citizens hated him and sent a delegation after him, saying, 'We do not want this man to reign over us.'"
It sounds as if the unfaithful servant had forgotten his role and duty to the king as servant, and instead had been influenced by the citizens' feelings and believed their lies. Or maybe the servant's excuses were exactly that—excuses—because if he had really been afraid, surely he would have at least put the money in the bank and made some interest.
His defensive words condemned him as a wicked servant, and as a result he was left with nothing.
He didn't do business because he didn't love the king. He didn't value what he had been given, and he didn't value the one who had asked him to serve.
What Unfaithful Service Might Look Like For Us
Unfaithful service is what happens when we don't love our King, Jesus. We believe lies about him, we forget who he has made us to be, and we lose sight of the value of what he has given us.
Our unfaithfulness in service could be passivity, as with this servant—or doing the bare minimum, serving in the way that maintains the most possible comfort and requires the least possible sacrifice.
Unfaithful service is what happens when we don't love our King, Jesus. We believe lies about him, we forget who he has made us to be, and we lose sight of the value of what he has given us.
Alternatively, it could be doing a lot... but with a grumbling heart, a self-righteous spirit or an entitled attitude. It is an approach to serving that means we're making it all about us rather than about God or other people:
"Do people realise how long I have been here for?"
"Where is everyone? I've left my family at home to do this."
"No one notices what I do for this place."
"If I wasn't here this church would fall apart."
Help to Be a Faithful Servant
These are all things I have thought or even said at times over the years. They have not pleased my Saviour, and they have robbed me of the joy of serving God and his church. But then I have to remember that I am saved by grace, not through my work or my attitude to my work.
We put to use the time, gifts and opportunities he has given us, to serve the church and the world, which so desperately needs him, and we do it gladly because we're doing it for him.
There is always forgiveness and a fresh start, and God's Spirit is at work to reorient our motivations back to faithfulness and love. Jesus has ascended to be with the Father, and one day he will return. While we await that return, we do business on his behalf with the portion of treasure that he has given us.
We put to use the time, gifts and opportunities he has given us, to serve the church and the world, which so desperately needs him, and we do it gladly because we're doing it for him. We do it each day, sustained by the gospel, following the example of Jesus, knowing that we're getting nearer to the day when we will meet him.
By grace he will welcome us in, and for each act of humble, willing, loving service, he will say, "Well done, good and faithful servant". That thought is enough to sustain us in our serving!
This article is an extract from the short, practical book Serve by Steve Robinson. It's great for reading on your own or discussing in a small group. Access the free small group kit here.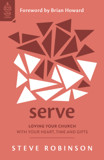 Let the gospel of Jesus and the example of Jesus motivate you to serve your church sacrificially.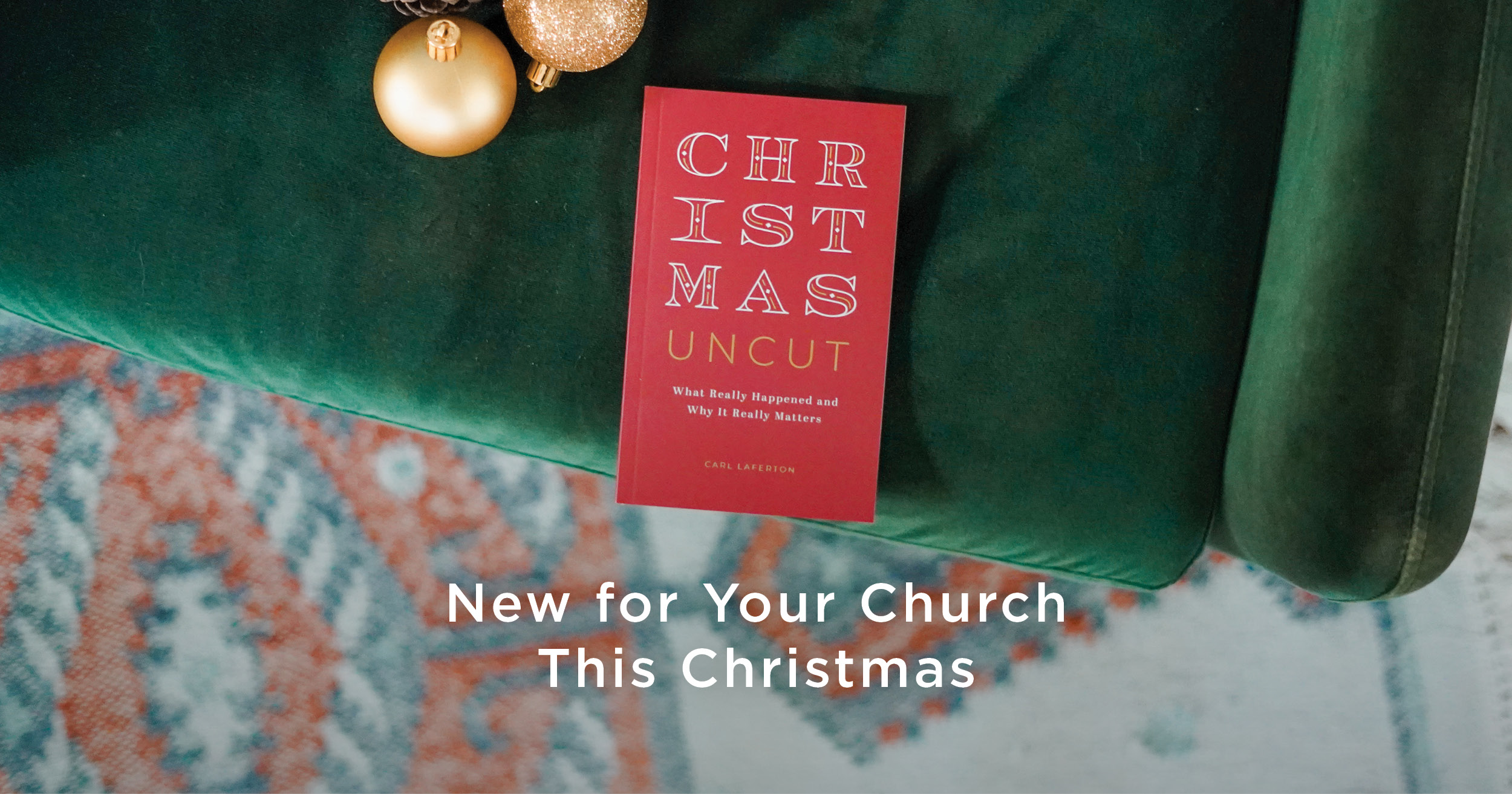 What does your Christmas planning look like? I'm sure there are some who've made the most of a quiet summer to plan Advent talks already. (That definitely wouldn't be me.) Other churches may have had so much on that they're just working week by week. Then there's others still that won't even let themselves think about Christmas until the lights are up and Mariah Carey is on the radio. 
Well, wherever you are, however your church does Christmas, we've got a whole host of resources to help your ministry this year. 
In fact, to get you organised nice and early, if you order your resources before Nov 1 we'll give you a free gift! Just choose one of our selected Christmas evangelistic books and use the code "freegift" at checkout to get it for free. This will be perfect to give away to a friend, or as a preview for stocking up for more events.
For Kids' Groups
We can help you find teaching material for children's groups in the lead up to Christmas, along with the perfect gifts for children and their families. Make the most of our bulk discounts to provide everyone with faithful books that unwrap the real Christmas story...
God's Big Promises Christmas Sticker and Activity Book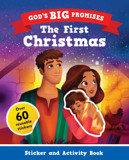 A fun activity book bringing the Christmas story to life. Based on God's Big Promises Bible Storybook.
What to expect: Looking for a gift that can bring the Christmas story to life for little ones? This Christmas Activity Book is packed with stickers, puzzles, and games that faithfully point children to the true story of Christmas: the angel visiting Mary, the journey to Bethlehem, the birth of Jesus, the visits of the shepherds and the Magi. This activity book will work perfectly as a gift for families you might only see at seasonal holidays, so they can learn of God's rescue plan through hours of fun at home.
Extra tips: You can find out more about the God's Big Promises suite, how it can work for churches, and where to download tons of freebies to help your church's children's work, at godsbigpromises.com. Read on for illustrations you can show on screens while Bible stories are told at your Sunday School or toddler groups.
God's Big Promises Advent Calendar and Family Devotions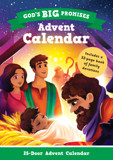 25-door Advent calendar linked with God's Big Promises Bible Storybook. Includes 25 family devotions.
What to expect: One of the church's challenges is finding ways to help parents disciple their children through reading God's word outside church walls. You can help families explore the Christmas story together with this attractive Advent calendar, which comes with 25 short, simple devotions.
Extra tips: Maybe you can get these ready for your families for the start of Advent. Then set challenges for them to read it together each day in the week, with small presents on Christmas Day for those who did. Read further down for more Advent Devotionals for adults.
God's Big Promises - Christmas Image Pack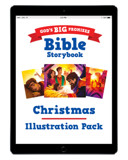 These full colour, full-size illustrations allow you to read the Christmas story from God's Big Promises Bible Storybook while showing the pictures on screen.
What to expect: Sometimes, finding good and faithful images for your powerpoint is the trickier, more time-consuming part of preparing for kids' teaching. Well, we have a free image pack for you to use for your Christmas teaching slots. They're full-colour, full-size, beautiful illustrations from God's Big Promises Bible Storybook.
Extra tips: Use these lovely illustrations on the screen, while reading from God's Big Promises Bible Storybook (stories 46-49) at your parent and toddler group, or kids groups on a Sunday. You could even use them as visual aids for all-age teaching slots at your services.
The Christmas Promise Sunday School Lessons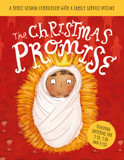 A three-session Sunday School curriculum, based on the best-selling book The Christmas Promise. Includes a family-service outline.
What to expect: If you're looking for more material to guide your teaching, we've released this Sunday School curriculum for you to use flexibly for your groups this Christmas. There are age-differentiated plans for 3-5s, 5-8s and 8-12s, including activity, craft and game ideas, and they're easy for anyone to lead. The curriculum is based on the best-selling storybook The Christmas Promise, and shows children God's promise of a special forever rescuing King.
Extra tips: Run Sunday School session 1 on Sunday 3rd December, session 2 on the 10th, session 3 on the 17th, and use the outline plan for a family service on Christmas Eve or Christmas Day.

Other Children's Resources to Give Away
It's good to have a small booklet to give to children as a present at Christmas services. Take a look at our range of Christmas Tracts for Kids.
We also recommend using small storybooks as gifts after your church nativity, or at the last parent and toddler or kids' groups of the term. There's a Lion in my Nativity is a warm rhyming story with quirky illustrations that teaches profound truths of Jesus. The Christmas Surprise, part of the Little Me Big God series, is a simple and engaging retelling of the Christmas story for toddlers. You could also stock these on your church bookstall for parents to buy as stocking stuffers for their little ones.
For Church Outreach Christmas Uncut
by Carl Laferton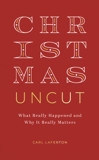 The authentic Christmas story, told in a warm, winsome and witty way. Perfect for giving away.
What to expect: If you're looking for a book to put on chairs or to hand out at the end of your evangelistic events or services, Christmas Uncut is perfect—it's warm, short, and easy to read! When it comes to the nativity, many of your guests will probably have cute, cuddly, kid-friendly images in their minds. This book turns those perceptions upside down, and reveals the uncut story of Christmas, full of controversy and mystery. It'll show people what really happened, and why it really matters for our lives today.
Extra tips: To help you get evangelistic resources for all of your guests, you can get 100 copies of Christmas Uncut for just £1 each!
Looking for something else? Take a look at our whole list of Christmas Evangelistic Books. We recommend The Ultimate Christmas Wishlist by Rico Tice, and Is Christmas Unbelievable? by Rebecca McLaughlin.
Christmas Carols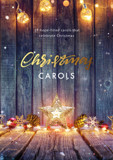 A beautiful booklet containing the words to popular carols as well as a one-page introduction to the gospel.
What to expect: Although many churches show lyrics on screens, there's something magical about holding a physical songsheet at Christmas. This beautiful booklet provides a great way for those attending your Christmas services to see the lyrics of your carols. All the classics are included in a large clear type—perfect for candlelit or outdoor carolling. The booklet also includes a one-page introduction to the gospel based on John 1:14, so it's great for visitors to take with them and read about Jesus, perhaps for the first time.
Extra tips: A portion of the proceeds from every Christmas Carols booklet goes to Compassion International, an international Christian child-development organisation.
Other Resources to Give Away
We have a range of Short Evangelistic Booklets to give out after events, or for your church family to give to their friends and neighbours. If you go carolling in your community, these are great to hand to passers-by. You could even deliver them through letter-boxes with an invitation to your events. (Keep reading for more tips on how we can help you advertise your events.)
We recommend Not Just Another Christmas by Dave Gobbett, and So this is Christmas by Rico Tice.
Gospels are brilliant to give to newcomers too. Browse our range of Gospels, and make the most of our bulk deals—100 for 50p each, 1000 for 40p each, or even 2500 for just 25p each!
Advertise your events
Thinking about how to publicise your events, in a way that's warm and winsome? We offer a service to customise our popular Christmas card designs with the details of your events. Order your custom flyers now.
Take a look at our beautiful card designs, new for this year: Joy to the World, The Lord is Come, Joy to the World, and Peace on Earth.

For Advent Devotionals The Advent of Glory by R.C. Sproul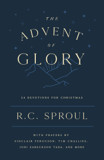 Daily Advent devotions that will help you to slow down and appreciate the wonder of Christmas.
What to expect: If you're looking to recommend a devotional that gives your church members the chance to slow down and really dwell on the words of the Christmas story, The Advent of Glory is spot on. Whether you've been a Christian for one Christmas or one hundred Christmases, you will benefit from R.C. Sproul's insight and wisdom. These short, heartwarming devotions, based on just a couple of verses each day, are accessible and easy to apply to our lives now.
Extra tips: To help you decide, you can read the Day 1 Devotion from The Advent of Glory for free on our blog. Browse our whole range of Advent Devotionals for all ages.
For Post-Christmas Follow-Up
If you're planning how you might keep your newcomers searching for answers off the back of Christmas events or services, we have some evangelistic courses for just that.
Hope Explored
Leader's Kit with everything you need to run this three-session, video-based evangelistic course: a Leader's Guide, a guest handbook, picture cards, a DVD and a code to access video downloads.




The leader's kit comes with a Single Group licence.
More about licenses.
What to expect: Hope Explored is a three-week evangelistic course looking at the life, death and resurrection of Jesus in Luke's Gospel. It shows participants that Christianity offers real hope, peace, and purpose.
Extra tips: You can preview session 1 of the Leader's Handbook and the Session 1 video sessions for free here. 
Christianity Explored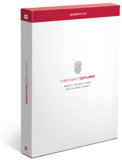 Beautifully designed leader's kit containing everything you need to run this popular and faithful introduction to the Christian faith.
What to expect: If your seekers want more time to really think through the gospel's claims, Christianity Explored offers seven straightforward sessions to help participants discover who Jesus is, why he came and what it means to follow him. 
Extra tips: The Christianity Explored and Hope Explored Leader's Kits give you everything you need to run the sessions, including a code to access the videos. Promotional materials are also available, such as invitations that you could put on chairs at your Christmas events, and the guest trailer.

This blog is just a sneak peek into our new Christmas resources for this year. There's much more to discover to help your ministry in our whole collection of resources for Christmas. Don't forget to order before Nov 1 for your free Christmas evangelistic book with the code "freegift".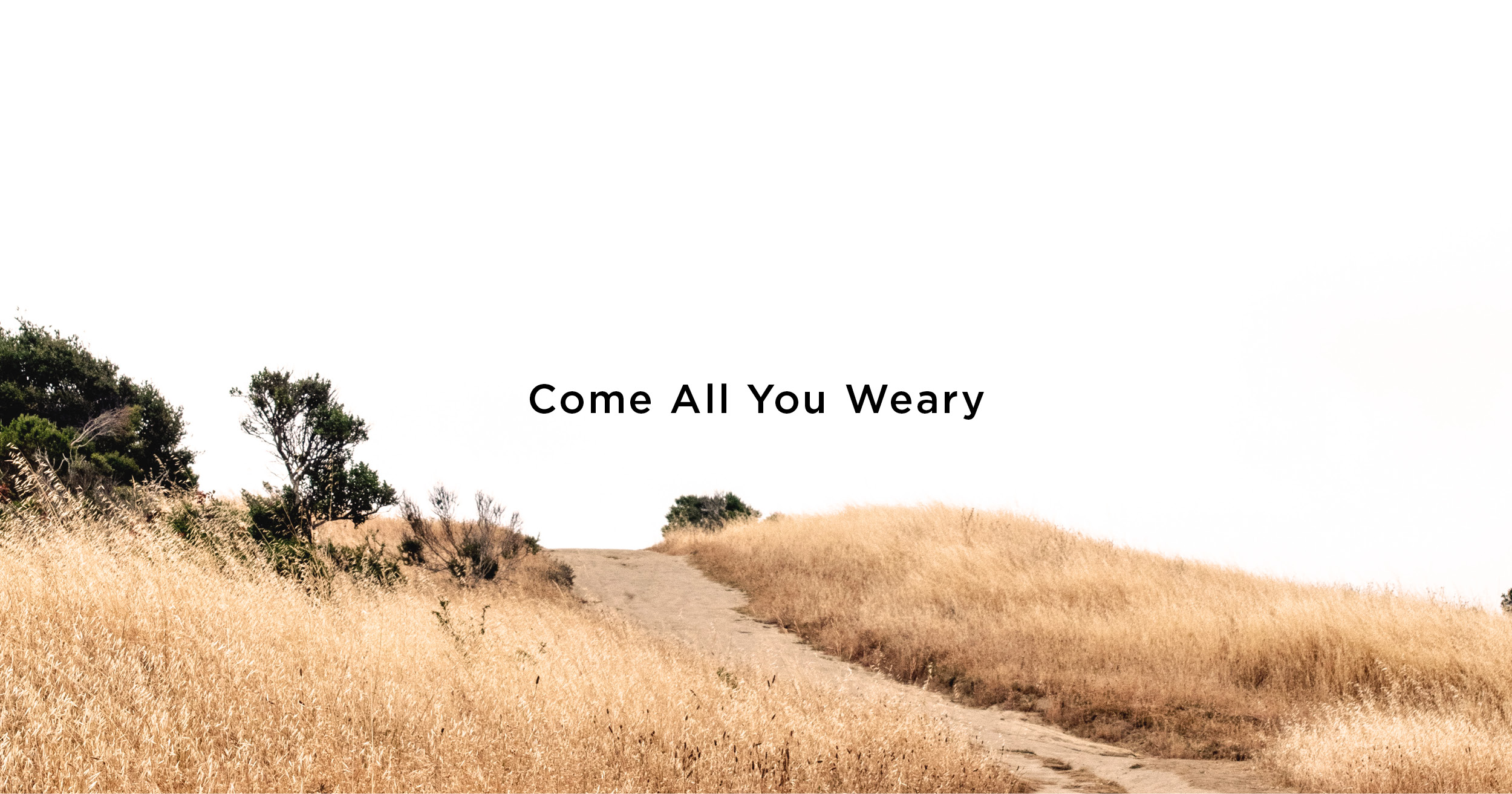 Wrecked at the feet of Jesus, as God tenderly crushed the pride out of me, I was able to hear this gracious invitation with fresh ears for myself: 
"Come to me, all who labour and are heavy laden, and I will give you rest. Take my yoke upon you, and learn from me, for I am gentle and lowly in heart, and you will find rest for your souls. For my yoke is easy, and my burden is light." (Matthew 11:28-30)
And I was glad to respond. 
These words are now some of the sweetest words to me in all of Scripture. They were strong, kind words that cut through the chaos of my turbulent mind and whispered grace and peace and hope to my weary soul when I really needed them. There are three things about this invitation to particularly consider. 
1. Who the Invitation Is To
The great news, however, is that if you're exhausted—you qualify. This invitation is directed at shattered saints like us.
This is not an invitation for the sorted and strong but for the weak and weary. 
The passage is not explicit about what the source of this soul weariness is. Could it be sin? Suffering? Temptation? Perhaps just the trials of life? 
Given the context of where this appears in Matthew's Gospel, there is a strong case for it being primarily aimed at those wearied by the demands of self-righteous religion. You know, those insane individuals who think that they can serve God in their own strength and out of their own resources (cough!), who don't really think they need verses like this one (cough, cough!). 
The great news, however, is that if you're exhausted—you qualify. This invitation is directed at shattered saints like us. Praise God! 
2. Who the Invitation is From
These words are especially sweet because of who spoke them—this invitation comes straight from the gentle, humble heart of Jesus Christ. 
If we could fully grasp the true depths of Christ's love for us, we would not be able to stop ourselves from coming to him and clinging to him with desperate faith for all that he is worth. 
He is, after all, the flesh-and-blood embodiment of the God who neither breaks bruised reeds nor snuffs out faintly flickering candles (Isaiah 42:3). 
He is the good shepherd who diligently searches for his lost sheep and, upon finding it, scoops it up and carries it all the way home with a joyful song on his lips (Luke 15:5). 
He is the friend of sinners—irresistible to the miserable, magnetic to the pathetic and a refuge to the wretched, the distressed and the oppressed. 
How amazing it is to think that the Son of God—the second Person of the Trinity, the Creator and sustainer of the universe, the glorious Saviour of the world—does not look at us in our crumpled mess and write us off. He doesn't push us away or chide us for not being strong, stable or holy enough. 
Instead, he draws us to himself. 
The passion in his heart for the lost, the lowest and least burns ever hotter and brighter. If we could fully grasp the true depths of Christ's love for us, we would not be able to stop ourselves from coming to him and clinging to him with desperate faith for all that he is worth. 
3. What is Being Offered
The offer that Jesus puts on the table is what our hearts most desperately need: rest. 
Rest from striving to be good enough (or pretending that we are). 
Rest from religion and performance-based faith. 
Rest from trying to earn God's favour or to pacify his anger. 
Rest for our weary souls. 
Rest in what Jesus has done for us on our behalf, through his death and resurrection. This is the gospel—the "good news". 
But it gets even better: Jesus offers his commitment to serving us as a gospel coach. That's the idea behind the word "yoke"—an image of two oxen pulling together. He'll help us to live out our faith in new ways that are neither heavy nor burdensome (the absolute opposite to whatever got us into this mess in the first place!). And ultimately, he promises perfect rest with him in the bliss of his heaven when all of this is over. 
Accepting this invitation—for the first time, or the thousandth time—is the initial step on a journey to being refreshed, restored and renewed by Jesus. So to all my fellow strugglers and stragglers, limping sheep and crumpled heaps—let's do this. Let's respond to the voice of the Master and take him up on his generous offer. Let's come to him, crawling if we have to, collapse at his feet and rest in his gracious embrace. Let's wrap our feeble fingers around the treasure of his beautiful gospel and refuse to let go. Let's fill our lungs with the oxygen of fresh faith. And let's start moving hopeward. 
This is an excerpt from Hopeward by Dai Hankey. Dai shares his own story of burnout and comes alongside other Christians who are struggling, showing us what it really means to rest in Jesus through trying times.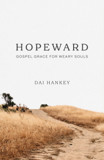 How Jesus can restore and sustain our joy, faith and service.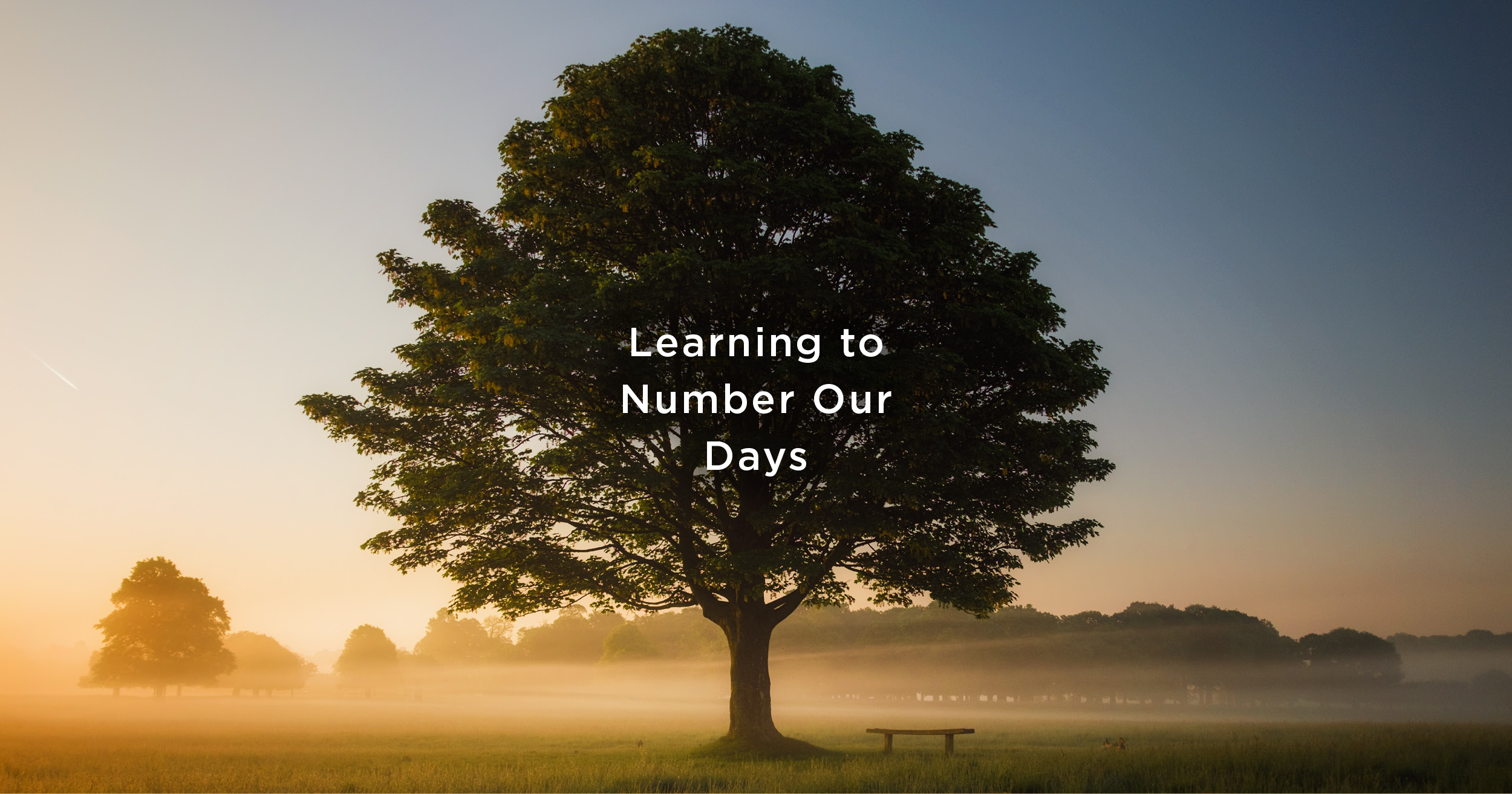 Most of us, most of the time, are not thinking about death. And certainly not about our death—which is why, if we are forced to wait a whole hour in traffic or a whole ten minutes at the drive-through, we'll grumble to a friend, "It took forever." 
But the moment we honestly consider that there is a day on the calendar that will indeed be our last day, suddenly 80 years of life—4,200 Sundays—feels very, very short.
Life Is Brief
The Scriptures that teach us that God has numbered our days (e.g. Psalm 139:16) exhort us to do likewise. 
In Psalm 39, David helps us consider the brevity of our lives, praying, "Lord, make me aware of my end and the number of my days so that I will know how short-lived I am. In fact, you have made my days just inches long, and my life span is as nothing to you. Yes, every human being stands as only a vapour. Selah" (v 4-5, CSB).
In Psalm 90, Moses uses similar language and compares our temporariness with the timelessness of God. He begins by remembering God's timelessness—that "before you gave birth to the earth and the world, from eternity to eternity, you are God" (v 2, CSB). To the God who created the concept of time, "a thousand years are like yesterday that passes by, like a few hours of the night" (v 4, CSB). In contrast, humanity is like grass that appears in the morning, has its day in the sun and is withered by evening (v 5-6). Then Moses prays in verse 12, "So teach us to number our days that we may get a heart of wisdom". 
Wisdom is gained by remembering that our lives are brief and that our every breath is a gift from God (Job 12:10).
In other words, foolishness is living in such a way that we never consider our end. Wisdom is gained by remembering that our lives are brief and that our every breath is a gift from God (Job 12:10). The one who has numbered with absolute precision the number of stars in the universe and knows them each by name (Psalm 147:4) has numbered your breaths and the days of your life. How precious each of them is.
What If This Were Your Final Year?
One of the accounts I follow on Twitter is called "Daily Death Reminder". Each day this account sends out the same unchanging message: "You will die someday". And even though I know what it's going to say, every time I read it, my breath catches a little. Some days, the reminder makes me smile. On others, it causes me to reconsider everything in my life. 
But the truth is, I need to be reminded because, probably like you, I have a tendency to fill my days with so many things: a mixture of both deeply meaningful things and completely meaningless things—all of which frequently distract me from considering the shortness of my life.
Let me ask you a few questions to help press the importance of this down deep.
Were God to reveal to you that this year would be your final year in the world, what would look different about your life? How would the way you speak to those around you change? Which friends and loved ones would you pursue with greater intentionality? Who would you reach out to and try to make peace with? What trivial and worthless activities that presently devour your precious time would you immediately put away? How would the intensity of your expressed love change toward each person in front of you? 
If none of us are promised tomorrow (James 4:13-14), how inexpressibly valuable is every day that we wake into and bless with the name "today".
Fullness of Life
There is liberation in being honest about our end. I've been in a handful of very dangerous situations in my time in this world, where I walked away thankful to still be breathing. Each of them put the brevity of my life into focus. Each of them made me want to love my family and friends and church with greater intensity. Each of them made me treasure the days I've been given. If none of us are promised tomorrow (James 4:13-14), how inexpressibly valuable is every day that we wake into and bless with the name "today". The most seemingly ordinary days of our lives are, each and every one, an undeserved grace. 
Yet we also need to remember that when our days conclude, and the final credits roll, and death puts us in the ground, this will not be the end for those who belong to Jesus. In Christ, death is not the end of life but the doorway into fullness of life.
This article is an excerpt from Faithfully Present by Adam Ramsey. In the book, Adam explores the human limitations of time and place in a thoughtful and sometimes witty way. He encourages his readers to embrace these limits and shows that there is joy to be found in the here and now, even as we look forward to "time unlimited in a place uncursed."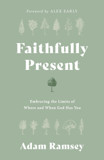 How to embrace the time and place where God has put us and live each day fully and faithfully present with God and with others.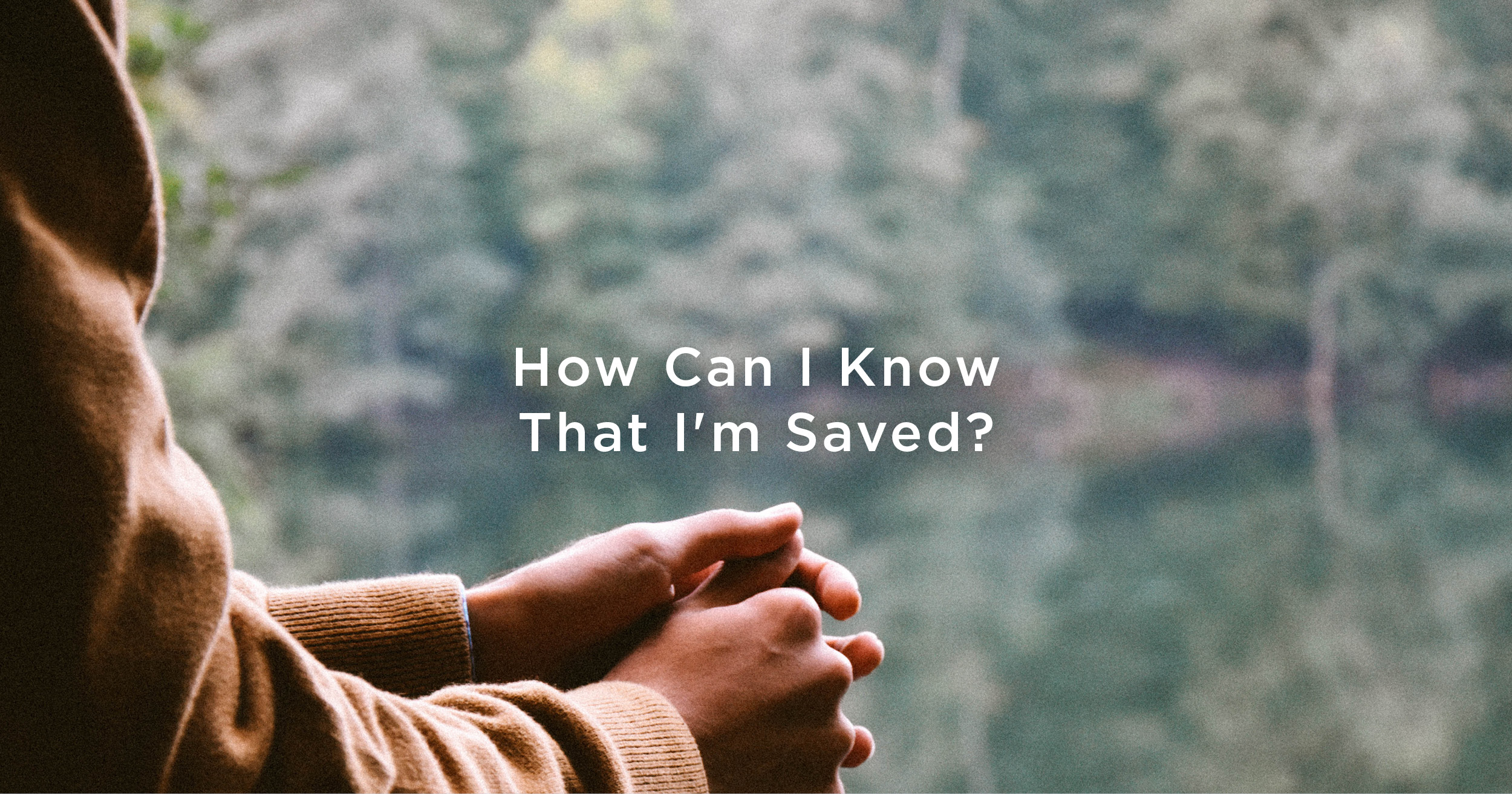 "Everyone who comes to me and hears my words and does them ... is like a man building a house,
who dug deep and laid the foundation on the rock."
Luke 6:47-48
Christians are those who confess Jesus to be Lord. But, as Jesus is about to tell us, not everyone who confesses Jesus to be Lord is a Christian. The crucial question, therefore, and the one that Jesus poses as he reaches the conclusion of this most challenging of sermons, is this: does your life match your lips?
On What Basis?
Do not move too fast past that question, nor assume that it is addressed to others but not to you. Luke told us at the very beginning of his account of Jesus' message that he was speaking to "a great crowd of his disciples and a great multitude of people from all Judea and Jerusalem and the seacoast of Tyre and Sidon (v 17). They had come "to hear him and to be healed" (v 18). 
In other words, Jesus was addressing a group who might loosely be described as "followers." Those listening that day were not dissimilar to those you would find in an average church on an average Sunday today: the interested, the eager, the intrigued, the expectant, the confused, the complacent, the faithful—indeed, they were not dissimilar to those who will likely pick up and read this book. You will find yourself among them, as do I.
And it is this great mix of people that Jesus wants to leave with this question: On what basis can I know that Jesus truly is my "Lord and Master"? On what basis can I know that I really am in his kingdom? He wanted them and us to be in no doubt about what it means to truly have him as our King.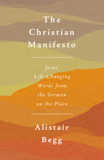 Encourages Christians from Luke 6 to live a countercultural life and experience true blessing.
Jesus Is Lord
Jesus has already shown us the kind of life that will be emblematic of those who can say with accuracy that they truly follow Jesus. 
First, it is a life that embraces a reversal of the values which are dominant in our culture, and have been in every culture through history. It is to be able to say, "I used to be happy to go along with this. I used to be able to speak in this way. I used to be able to laugh at these jokes. I used to be able to ignore that injustice. But now I cannot be like that—indeed, I don't want to be like that—because Jesus is Lord of my life."
Second, those who are able to justifiably declare the lordship of Jesus will also display a love that is quite exceptional: not reciprocal "love"—a kind of "I'll scratch your back if you'll scratch mine"—nor a superficial "love", the common courtesies of interaction. It is a love that is like God's; a love that is kind to the ungrateful and the wicked and a love marked by forgiveness and generosity.
Third, the life of someone whose Lord really is Jesus will be marked by an integrity that is quick to confess their own shortcomings and sins, gentle in helping others with theirs, and prepared to face up to the challenge that "out of the abundance of the heart [the] mouth speaks" (v 45). 
What we do with Jesus' words is a great signpost of our true identity and our eternal destiny
Now, fourth, Jesus says that those who genuinely know him will make that plain through a genuine desire to obey him.
No More Important Question
Therefore, what we do with Jesus' words is a great signpost of our true identity and our eternal destiny. Jesus stands as the fork in the road. 
This was what Simeon had prophetically realized as he held the infant Jesus in his arms: "This child," he told Mary and Joseph, "is appointed for the fall and rising of many in Israel, and for a sign that is opposed ... so that thoughts from many hearts may be revealed" (v 34-35). 
This was what John the Baptist had prophetically revealed as he pointed to the one who was to follow him: "His winnowing fork is in his hand, to clear his threshing floor and to gather the wheat into his barn, but the chaff he will burn with unquenchable fire" (3:17). 
Those who will bow beneath his lordship, Simeon and John were saying, will be gathered in by him and will rise up into all that is prepared for his people to enjoy in eternity. Those who will refuse to bow beneath his lordship, though, will fall, will be cast out, and will spend eternity without him.
There can, therefore, be no more important question than that of what we do with Jesus. And so we return to the question on which hangs eternity: do we truly have Jesus as our Lord?
This is an excerpt from The Christian Manifesto by Alistair Begg. In this book, Begg unpacks the Sermon on the Plain detailed in Luke 6 to teach believers that the Christian life is radically different, and better, than that offered by our culture.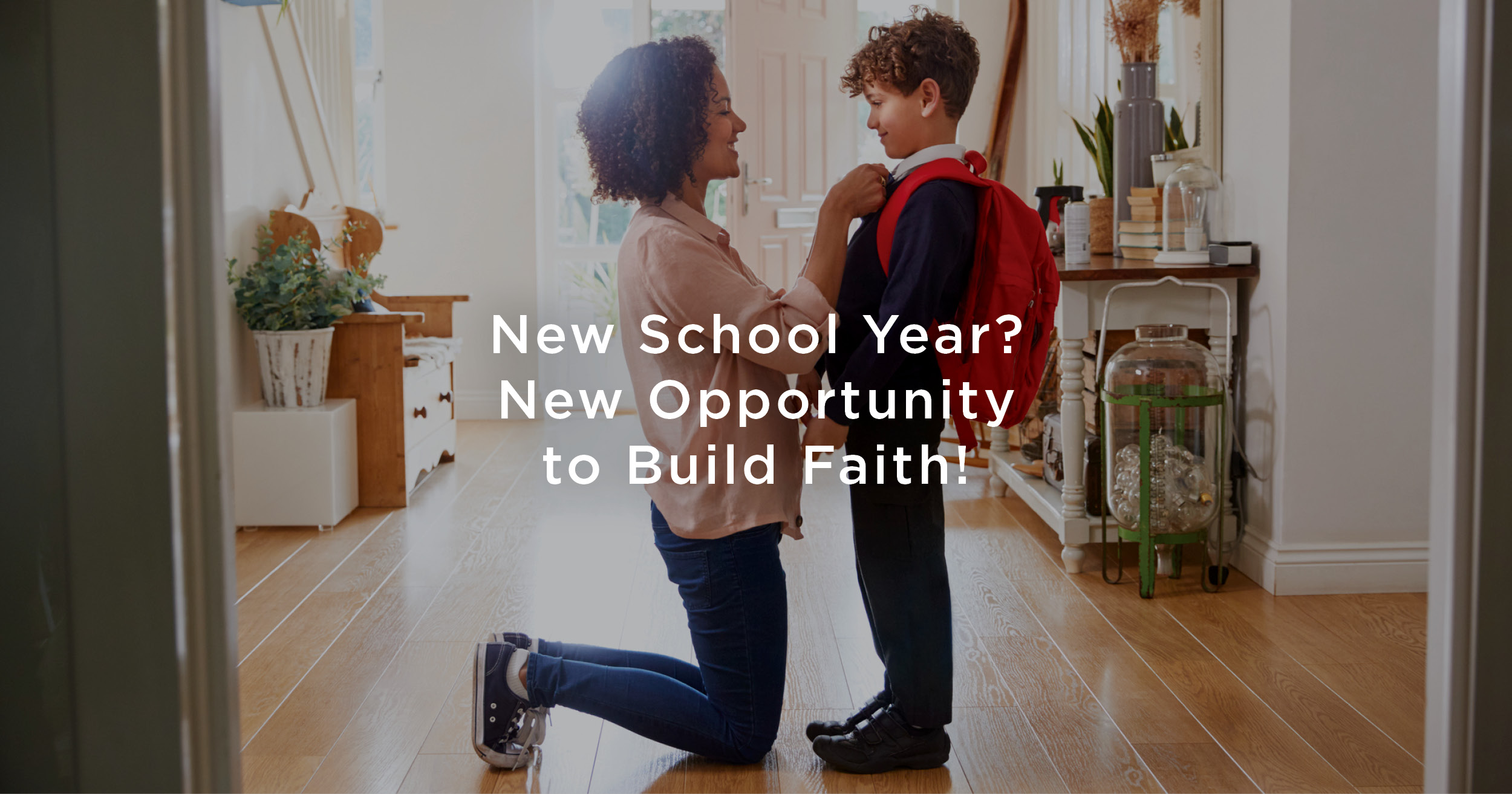 Transitions matter
A great deal of research has gone into understanding the factors that lead to the children of Christian parents either keeping or losing faith. Transitions are shown to be crucial. Whether it's the first term of full-time school or the start of University, it is at the points of change where faith is often built (or discarded). When our children find themselves in a new classroom, a new school or a new city, the more significant aspect is what is happening in their heads and hearts. Transitions reveal our coping mechanisms and test our faith. When our children face change, they need to learn new skills and new routines and they need to trust that while they are struggling, there is one over them who has their days planned out with their good in mind. Our role as parents is to teach our children how to turn towards Christ, rather than away from him, whenever they feel alone, confused or nervous.
New school years give us a predictable moment of transition for which we can prepare, building a foundation that helps our children face the unpredictable changes that will come later.
Preparing ourselves
One friend ran a Bible study for mums about to drop their child off at school for the first time. Word got out. She had to run it again …. and again. The mums were clear that they were not ready; they were struggling to get used to the idea of their child being in full-time school. There was going to be a moment at the first drop-off when they would discover who would dissolve into tears first. These mums knew that before they could help their child, they had to go to work on their own hearts. 
Preparing our children
For myself, I will be opening Acts 18:1-11 with my family in the run-up to the new school year. It's the story of Paul arriving in a new city. He arrived bold and brave ready to witness to Christ, but there were difficulties and setbacks. Christians have never been promised an easy ride. We can't prevent our children facing difficulties and setbacks; we can help them to be ready. God spoke directly to Paul offering truth, direction and reassurance. Alongside the specific message for Paul was the timeless truth, "For I am with you." If your child is young, count those five words off on the fingers and thumb of their hand and then tell them to make a fist (for courage). Wherever they are, whatever is happening, however they are feeling, those five words will always be true. Ask them to practise saying them, counting them off on their fingers. They can say them to themselves. With such simple words, faith is built for life. 
If your child feels calm and prepared, there is no harm in opening the Bible together, talking about new beginnings and finishing by praying. If your child is anxious, doing so is even more valuable.  However old your child, their emotions show what is happening in their hearts. Their worries, their fears and their beliefs are laid bare, even if they can't explain them or even understand them. Take those things, together, to the God who loves them, and hear his words of reassuring truth.  
Do join Ed, Amy and Eliza Huie on the Faith in Parents podcast #121 as they talk about Parenting Big Emotions.
This article was originally shared by Faith in Kids, and is reshared here with their permission. A version of this article appears in the September 2023 edition of Evangelicals Now. For more on parenting kids through confusing times, take a look at Raising Confident Kids in a Confusing World by Ed Drew
Free stuff alert!
We offer free extras with many of our resources. Why? Because it's fun and because our authors and readers often have great ideas for materials that help reinforce the messages of books. Some of our most popular freebies are colouring sheets, craft templates, and extra downloads of content within books.
Here are some insider tips on how to use these types of freebies to help kids interact with the truth of God's word after reading our books. 
1. Print Copies of Family Devotional Activities for Each Child
If you have multiple kids in your family, it's not necessary to buy each one a family devotional in order for them to participate in Bible time. We offer the activity sheets from family devotionals such as A Jesus Christmas and Any Time, Any Place, Any Prayer Family Bible Devotional online for free so you can print extra copies. Then everyone can participate!
2. Help Tactile Learners to Concentrate with Colouring Sheets While You Read
Many kids have an easier time focusing if their hands are busy. Giving kids one of our free colouring sheets (or even a whole Colouring and Activity book) to use while you read a related story out loud can help them to concentrate and associate Bible-story read-alouds with fun activities. For an example, check out this free colouring sheet that goes with The Garden, the Curtain and the Cross.
3. Invite Kids to Retell You the Story While They Create a Related Craft
One of the best ways to help a child (or an adult for that matter) to really think about a story is to ask them to retell it to you. If they retell the story to you while working on a craft, they've got something tactile jogging their memory. Later, when they see a finished craft like this rainbow from Seek and Find: Old Testament displayed somewhere at home or in a classroom, it may prompt them to recall the story again to themselves.
4. Use Worksheets to Reinforce and Build On What Kids Have Learned
As a combination of drawing, retelling, and answering questions, the worksheets we make for each of the biography books in the Do Great Things for God series help kids to remember and build on the stories they learn. They are great for helping kids understand more about missions work, or for use in a homeschool setting.
5. Follow a Free Lesson Plan or Use the Forever Party Kit to Create an Experience Around a Concept
If you'd like to go all-in on creating an experience around one of our storybooks, we've created a plan for you for several resources. The free lesson plans developed for many of the books in the Tales That Tell the Truth series include ideas for games, crafts, prayer and more. For The Super Awesome Fantastic Forever Party, we've created a Forever Party Kit to help you create a memory that gets kids excited about what's to come with Jesus. 
Browse all of our free resources here, including free small-group kits for adults.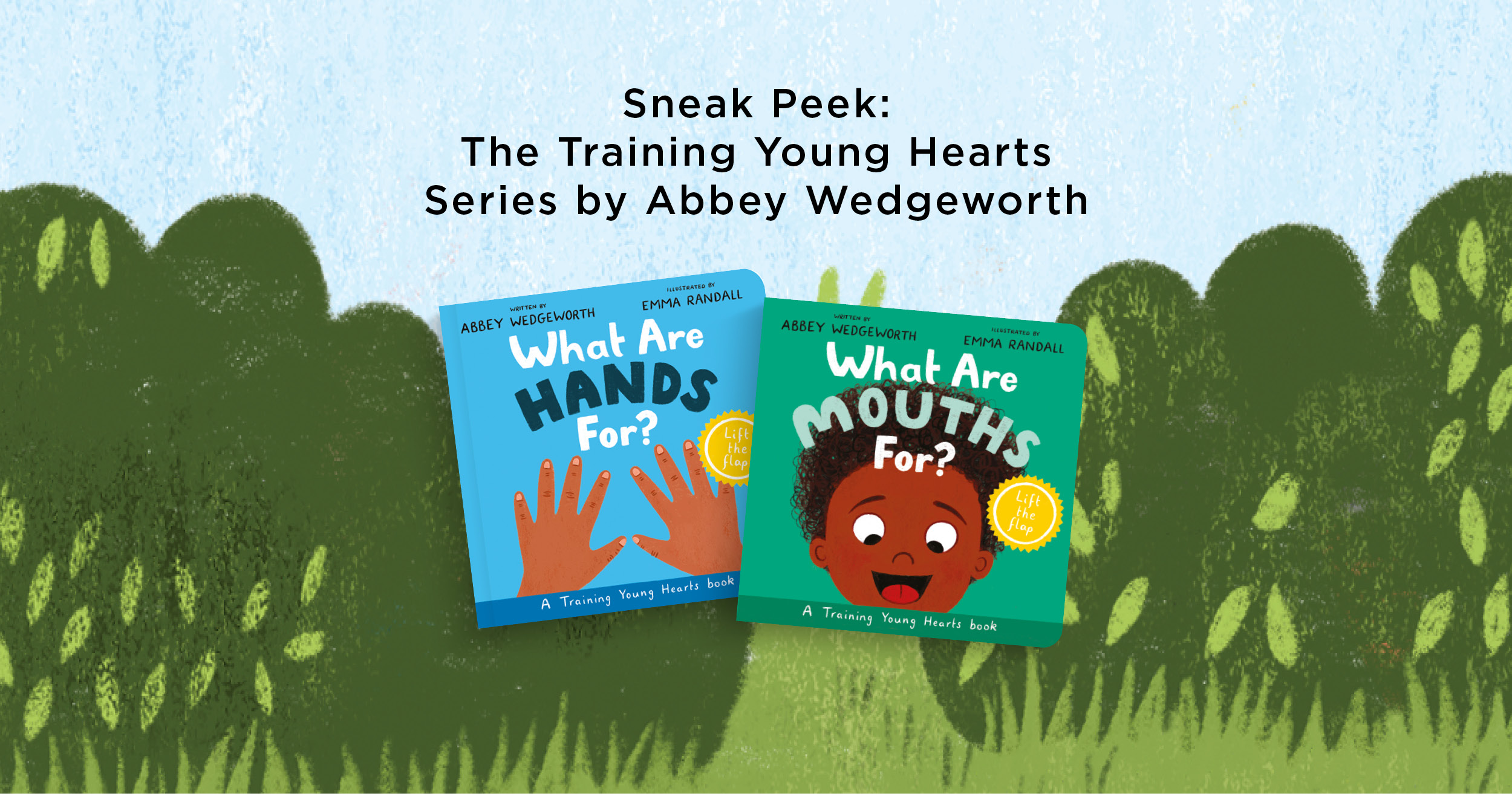 We're so excited about the new Training Young Hearts Series by Abbey Wedgeworth. Designed to give parents, teachers and others a practical and biblical resource for motivating kids to positive behaviour, this series is both fun and incredibly useful.
Read on for a sneak peek at the concept behind these lift-the-flap board books, as well as to see their framework.
The Story Behind the Series According to Author Abbey Wedgeworth
"I love using what I like to call "training refrains" with my kids. These are repeated words and rituals that we employ consistently to help me to be proactive instead of reactive and help them to remember what is right. This series was born out of our training ritual for hitting and biting.
I wanted my kids to understand that Jesus was a child just like them. That he lived the life they couldn't, died the death they deserved, and was raised in order that, by faith in him, they could become more like him as they live and one day be perfected. I wanted not only to teach them the right and wrong way to use their hands and mouths (although that is important) but also to show them that in Christ, they had more than a perfect example; they had a perfect Saviour—someone to run to for forgiveness when they do wrong and for help when they need to be better.
I couldn't be more grateful for the shape this series has taken, or more hopeful for the families who will use this series to be equipped not only to respond to undesirable behaviours proactively instead of reactively but to learn to view them as opportunities to share the good news of the gospel with their kids."
The Framework of Each Lift-The-Flap Board Book
Each of these lift-the-flap board books aim to teach toddlers 3 things, previewed here:
1. That God Made Their Hands and Mouths For...
...All Sorts of Good Things!
2. That God Didn't Make Their Hands and Mouths For...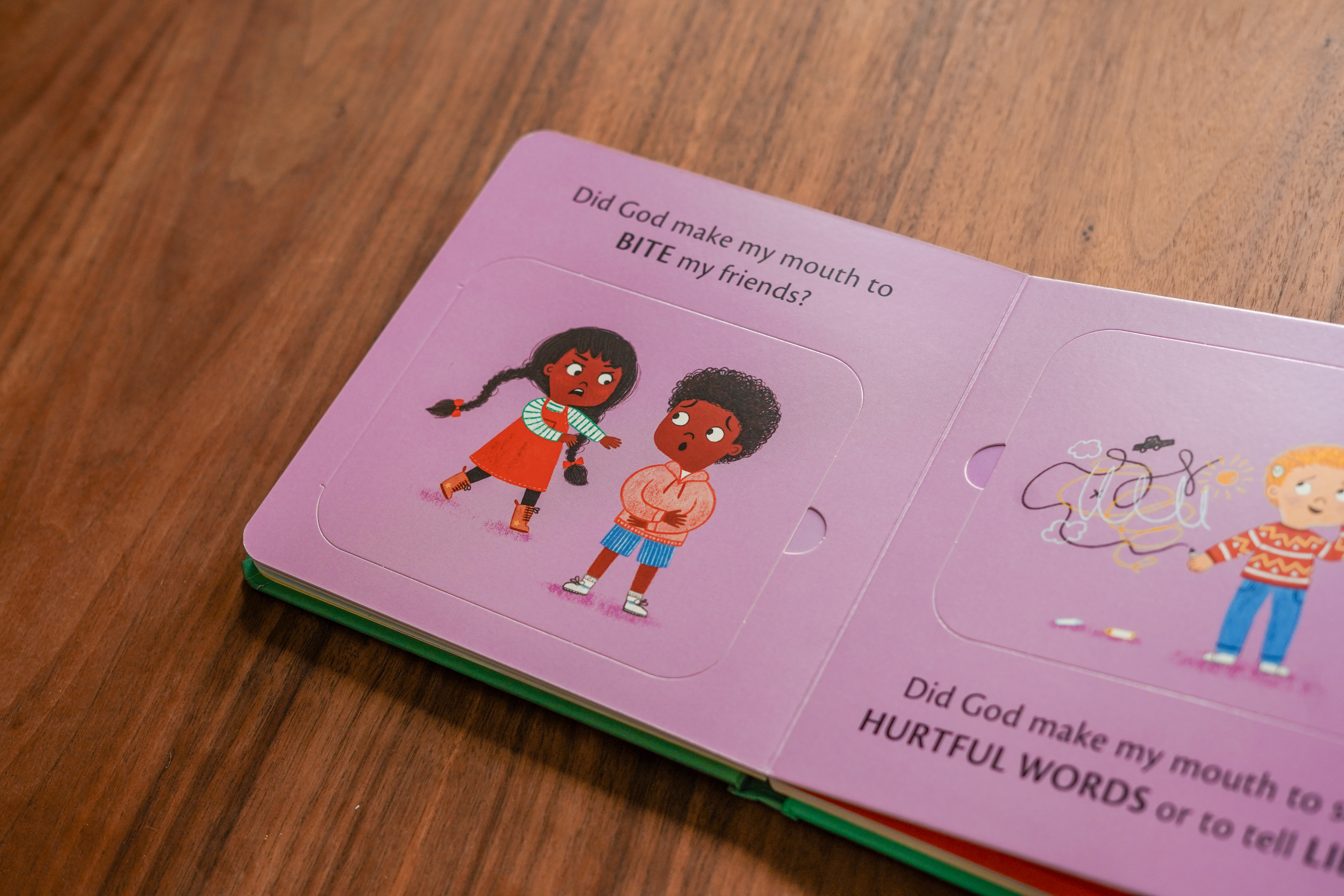 ...Common Behaviours That Need Correction.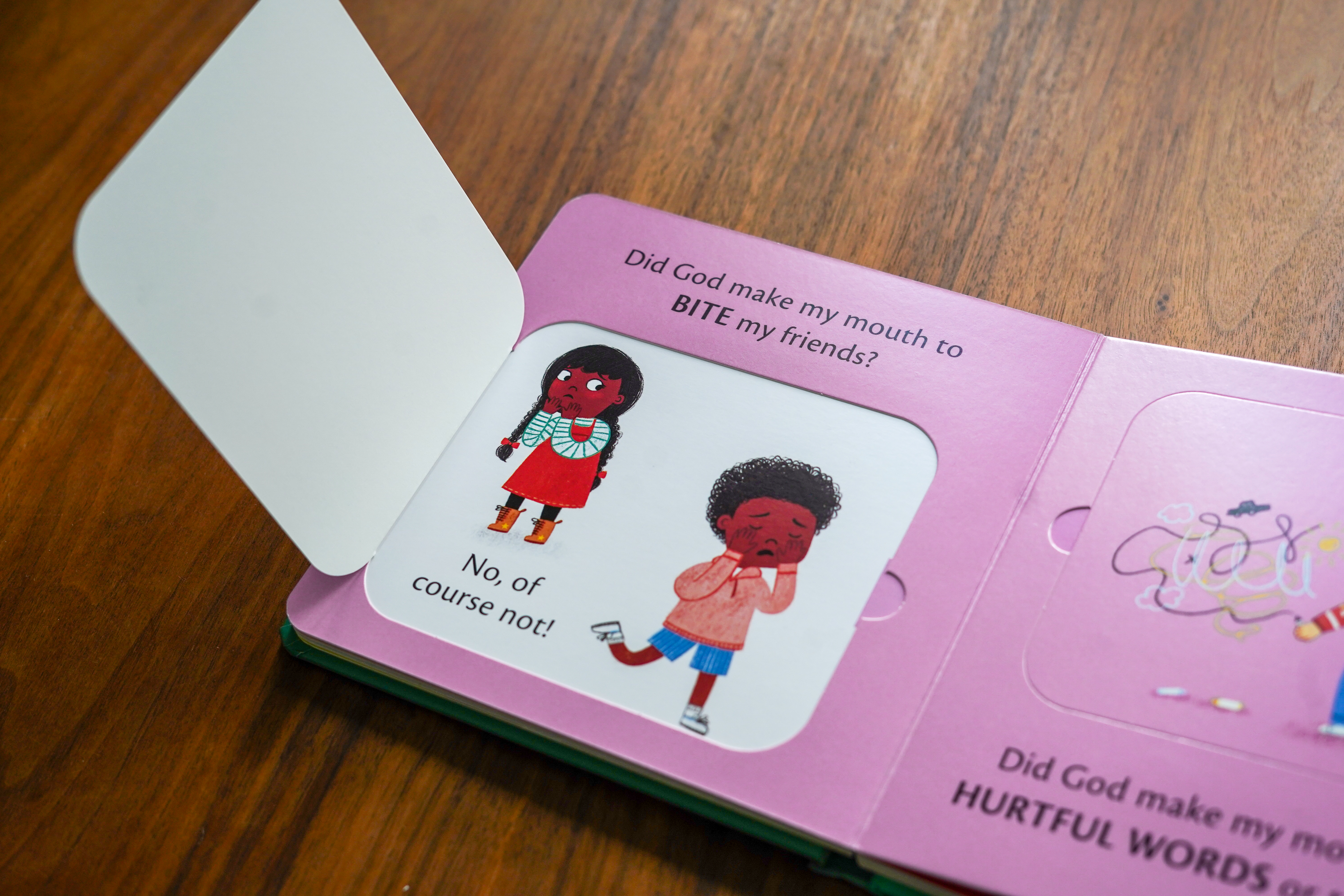 3. That Jesus Used His Hands and Mouth Perfectly...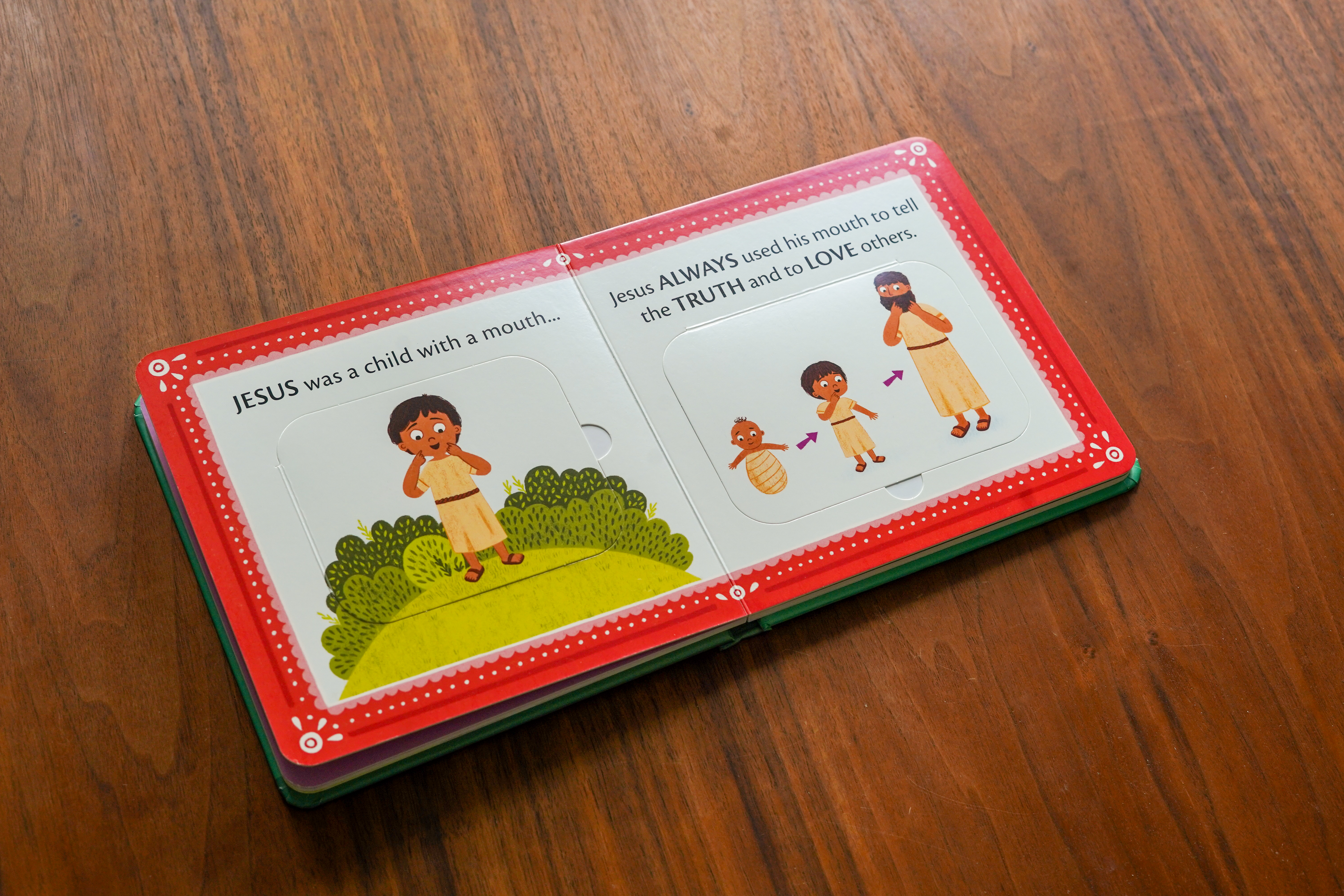 ...to Make a Way for them to be Forgiven and to be Like Him!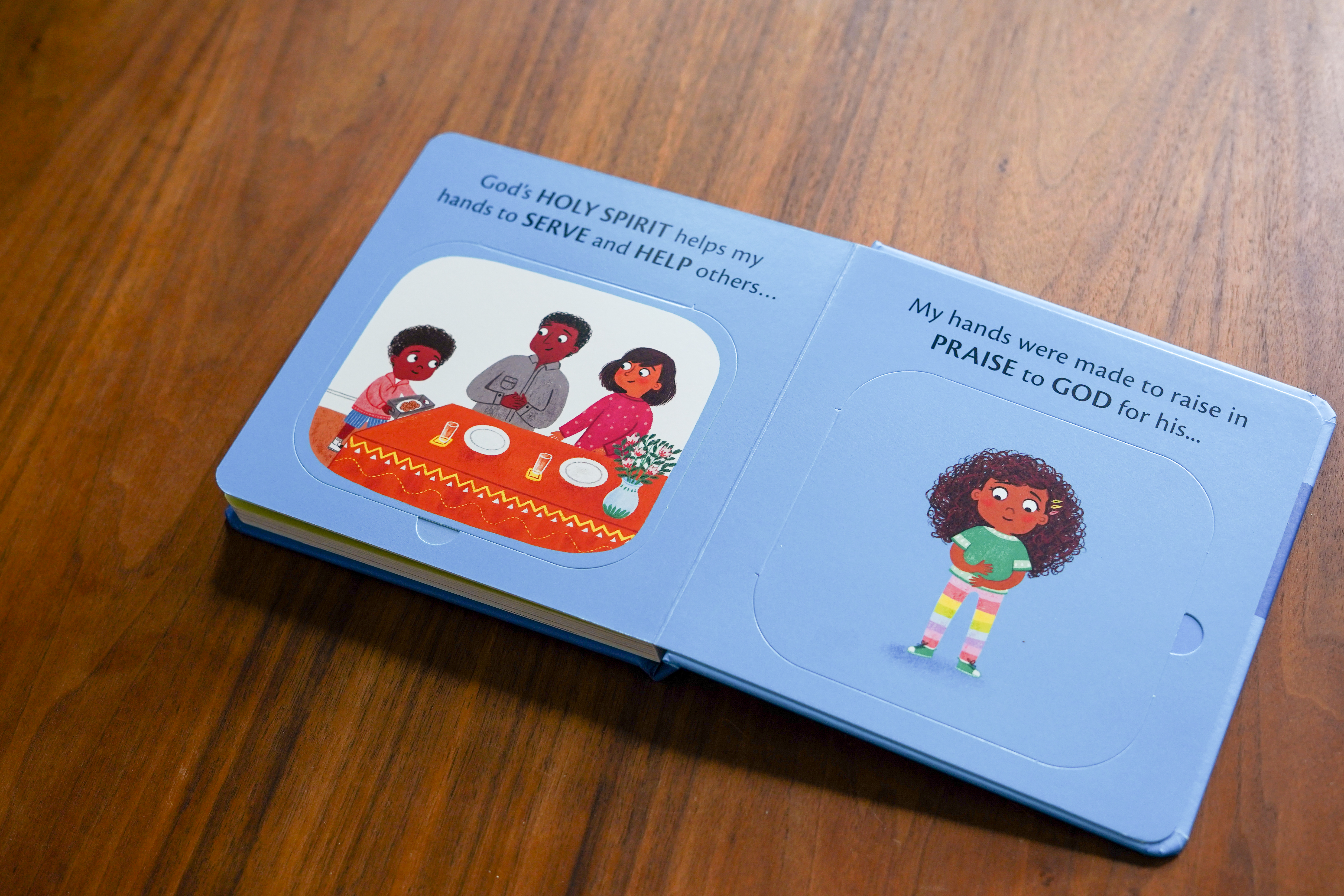 Get copies of these practical, biblical board books for your family, classroom, nursery, or church here, or click below to add to basket.

Practical, fun tool for parents raising toddlers. Encourages obedience motivated by God's love and grace.

Practical, fun tool for parents raising toddlers. Encourages obedience motivated by God's love and grace.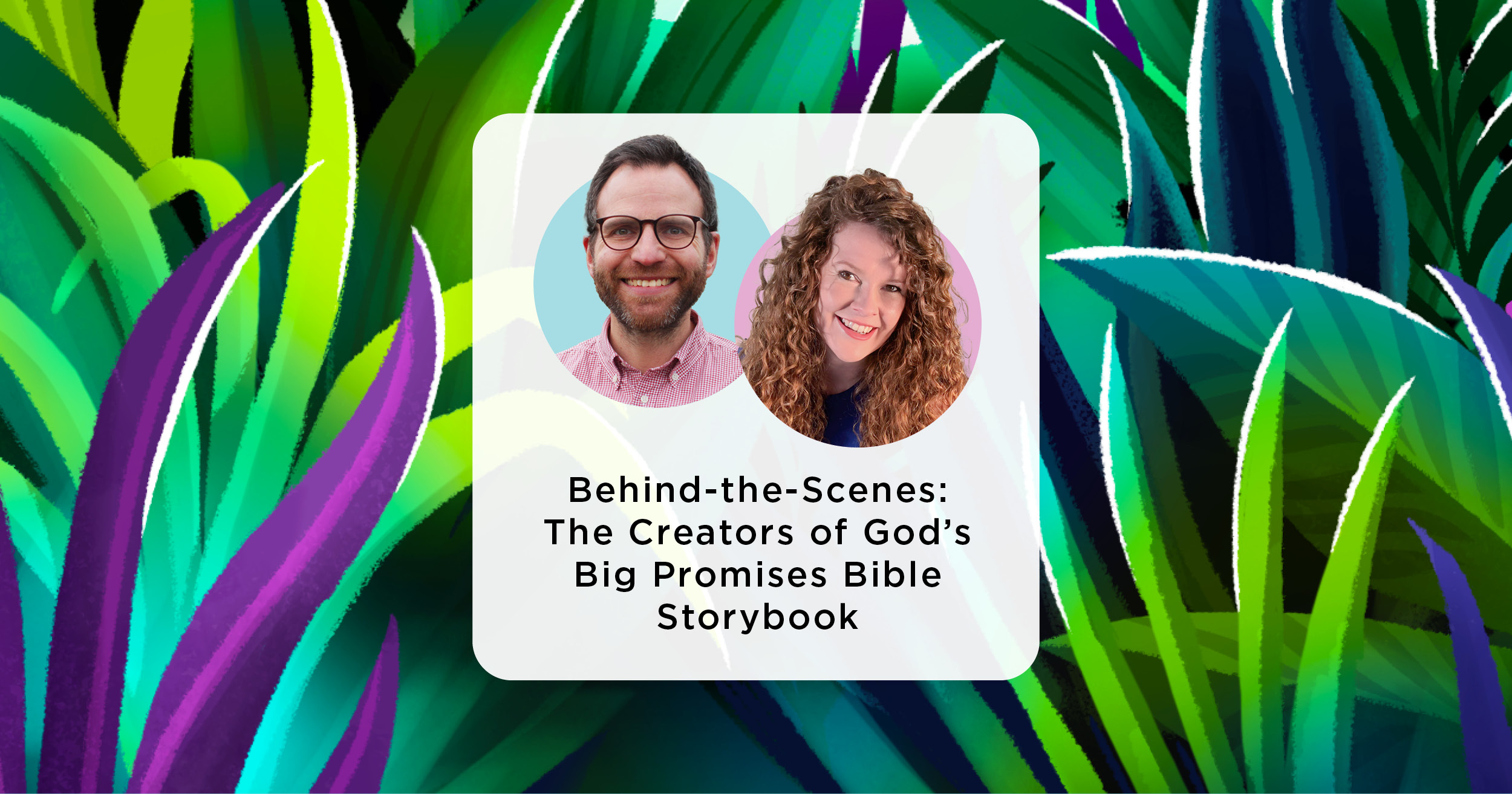 We sat down with the author and the illustrator of God's Big Promises Bible Storybook for an inside scoop into the creation of the book!
Carl Laferton, author of the beloved and bestselling The Garden, the Curtain and the Cross, spent tireless hours crafting each of the 92 Bible stories found in the storybook. His goal is to teach little ones not only that the Bible is one big, cohesive story, but also that it tells the story of a trustworthy God who makes and keeps good promises. Inside the storybook, you'll find five "Promise Paths" that walk kids through the stories in the Bible where God makes, and then keeps, five different types of promise.
Jennifer Davison, the master illustrator behind the Very Best Bible Stories, carefully crafted each illustration in the storybook to be biblically faithful, historically accurate, ethnically diverse, creative and fun for little eyes.
Keep reading for a dive into the making of this wonderful Bible storybook.
Who is your favourite Bible hero?
Jen: My favourite hero in the Bible is probably Deborah. I love that story of a powerful woman of God—that prophetess who hears from God and has such conviction in what she hears that she can lead Barak and his whole army to victory. And when I was illustrating that story for God's Big Promises Bible Storybook, I just wanted to convey the drama in those events and her confidence in God that he was going to lead them to victory.
Carl: One of my heroes in the Bible is Esther. She was pretty much on her own and yet she was so brave and risk-taking in representing God's people when it could have cost her life. And of course she's pointing to Jesus in that. But I also loved the way Jen illustrated it in God's Big Promises Bible Storybook—the way the image captured Esther's beauty, but also her strength, and that shines through the pages.
What is your hope for God's Big Promises Bible Storybook?
Carl: There are 92 individual stories in God's Big Promises Bible Storybook. And my prayer is that kids will get to know those stories, but more than that, that they'll get to know that it's one big story. And what I dream of for little kids—2, 3, 4, 5, 6 year olds—is just knowing that God always keeps his promises, that that is what the Bible teaches us about him, and therefore, that they can trust him every day and on into eternity because he still always keeps his promises. That's my heart for this kids' storybook Bible.
What did you learn while creating the storybook?
Jen: It was while working on God's Big Promises Bible Storybook that I learned the family line, especially in the Old Testament. I just thought it was very interesting, drawing Jacob and then doing that family line. Seeing how it all connects, you just see the overall picture. I'd never really gotten my head around that until I was actually illustrating each story for the Bible.
Carl: One of the things that really struck me is just how careful Jen and the art director were, and I was too. The care that we ended up taking back and forth, back and forth, just to make sure that as kids were reading, it's not just that the words are faithful to the stories in the scriptures, but the illustrations as well. I really learned that you have to be super careful, but it really pays off in the final product.
What did you most enjoy writing for God's Big Promises Bible Storybook?
Carl: I think the stories I most enjoyed writing are the Abraham narrative, because this is a Bible that's based, like the real Bible is, on the idea of promise—God making and keeping promises and exciting kids that God always keeps his promises. And that Abraham narrative is where you get those foundational promises. 
I really enjoyed writing about those and the stars in the sky that Abraham is told to count because his descendants are going to be as numerous as that. And then to track that through and think that kids are going to see that tracking through the pages of God's Big Promises Bible Storybook and seeing how God doesn't just make promises, but keeps his promises. So I think that was the story where I really began to think, oh, this is a super exciting way to get kids stuck into a Bible storybook.
Which animals do you particularly like the illustrations of?
Jen: On the Creation page I'm picturing the tiger because he's so striking. That was fun. Just adding in all the little animals all around that creation. Lots of scope to play with them. And the underwater page as well.
Carl: Speaking of underwater, I love the massive fish, whale, whatever it is, in the Jonah story. You've got tiny Jonah and this massive fish, and then you see Jonah in the belly of the fish on the next page and then spat out on the next one. And I just think it's really cool the way that that sort of flows and gives a sense of what it must have been like for Jonah to go deep, deep down. 
So yeah, there's animals all the way through. I love the one of Jesus with the sheep, where it's the story of him talking about himself as the good shepherd. And I think kids are just gonna be really drawn in by that illustration to appreciate who Jesus is for them by faith.
What was the most challenging thing about writing God's Big Promises Bible Storybook?
Jen: The hardest story to illustrate I think might have been Moses. Just to convey that amount of people and the crossing of the sea, and then having a few closeups of Moses himself. That was a bit of a challenge, that whole story. 
Carl: Moses too, actually. I think it was the golden calf because that's introducing the idea of idolatry. We are introducing it to three and four year olds, and just, how do you do that? And it took me ages, and then in the end I decided to call the golden calf and future idols through Israel's history a "not God", because it's like a God, but it's completely not the real God. And so, it took me ages to get to that point of thinking that's what I'm gonna call the golden calf—not God. And then I was able to play that out through the rest of the Bible, but it took a lot of blank paper time to get to realising that that's how we could use language to help kids understand what an idol is.
You can find more information about God's Big Promises Bible Storybook, as well as free resources for parents, schools and churches, at godsbigpromises.com
92 foundational Bible stories, faithfully told and beautifully illustrated, which point to the one big story of the Bible—God making and keeping his promises.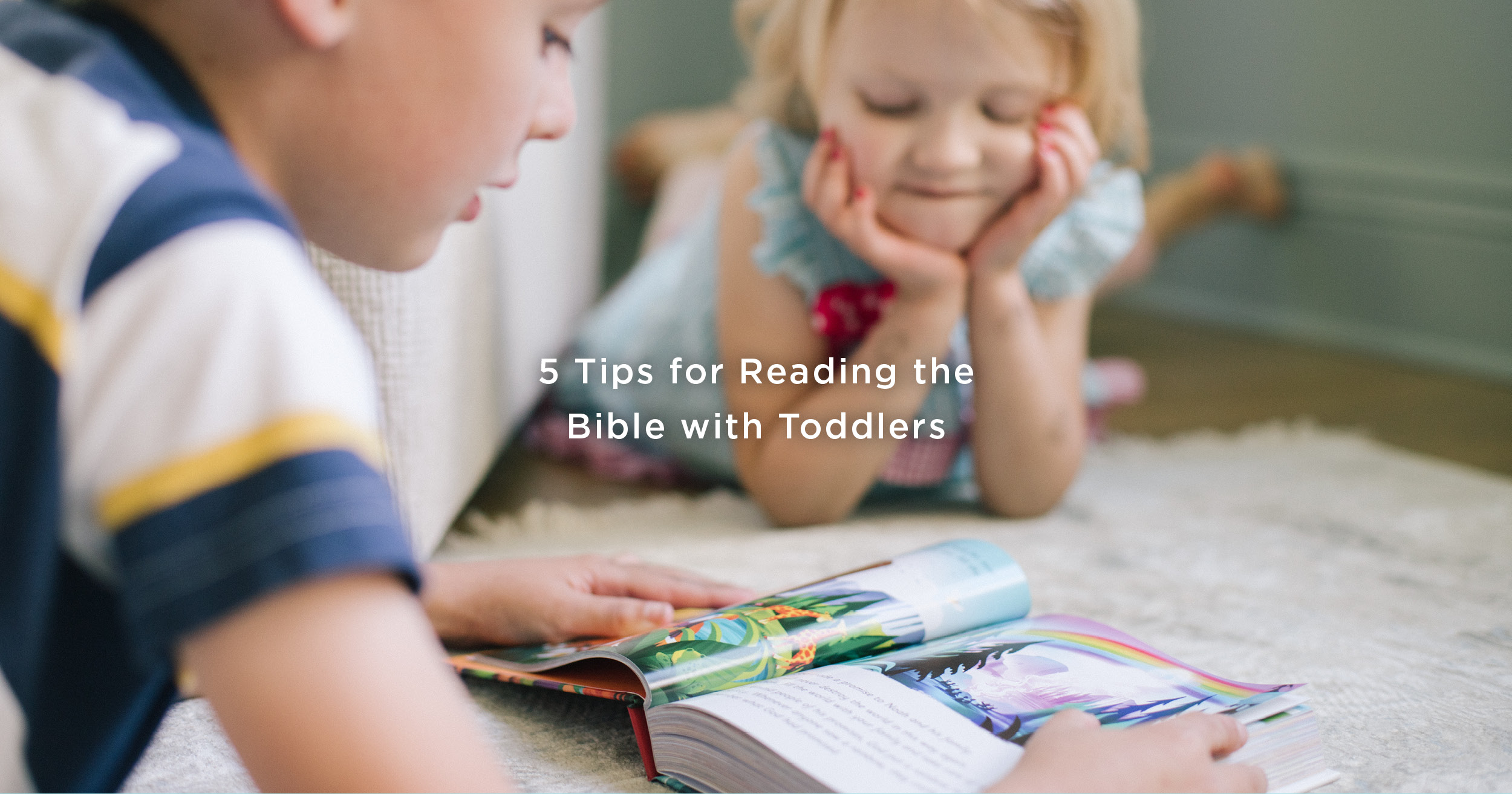 The best things in life are not always (or often) the easiest things. That includes Bible reading with toddlers. Jesus said "Let the children come to me"—no one in your family is too young to start meeting Jesus in his word.
But Jesus never promised that reading the Bible with little ones would always be easy! So here are five tips for reading the Bible with toddlers.
1. Get started, be regular
Starting to read the Bible when your kids are toddler-age may feel difficult, but it will mean that Bible-reading becomes part of their routine from the youngest age. What a joy to think that, as teenagers, they will be able to look back and not remember a time when God's word wasn't a daily part of their life!
So, get started and then keep going. Pick a time of day that is going to work for you to read the Bible with your young children every day. (Or, given the unpredictability of life with little ones, most days!) We went for between bathtime and bedtime. For others, mornings work best. But create a family routine, and then stick to it as much as you're able to. Soon enough, you'll find your kids reminding you about Bible time, rather than the other way around.
2. Use a storybook Bible that is faithful and fun
Find a good Bible for toddlers. That's likely to be a Bible storybook that introduces little ones to the key stories of Scripture, and to the God who is the hero of all of them. Ideally, it will give a sense that the individual Bible stories are part of a bigger story.
A good Bible for little ones will be two things: faithful and fun. First impressions matter, and these Bible times with your toddlers will be their first impression of Jesus and of his word. When choosing resources for your toddlers, be more concerned, not less, that the truth is being told carefully. At the same time, God's word is exciting and gripping. So be sure to find illustrations and a storytelling style that will engage your child.      
3. Keep them engaged
This is not easy! All toddlers need help to remain focused. You could:
• Invite your toddler to help you by turning the pages.
• Ask them to spot something in the illustration.
• If you're using God's Big Promises Bible Storybook, there are icons on the side whenever God makes or keeps a promise, and young children can enjoy spotting each time an icon appears.
• Ask a simple question: "Who calmed the storm?" "Did God keep his promise to give Abraham and Sarah a son?" 
• Create a sticker progress chart, and let your toddler put a sticker on it each time you have enjoyed a Bible time together.
4. Looks for wins over months, not days
We measure our kids' physical growth over months or years—not days. It's wise to do the same with their spiritual development. Don't worry if your toddler simply won't sit still one day, or if they seem not to have listened much for the last week. Keep going! If you do Bible times with toddlers regularly, then you will see progress over the months. You'll realise they understand a truth about Jesus. You'll overhear them telling a Bible story to some toys. You'll find them praying to say thank you for something.
5. Be excited yourself
If you're not excited about your Bible reading with toddlers, then your toddlers certainly won't be! Talk about Bible times positively and enthusiastically—as something you're looking forward to rather than something you've got to do, or something that needs to be squeezed in. After you've read a Bible story together, tell your toddler what excited you—what you love about God. Young children take their cues from their parents. Your words and your tone can foster in them an excitement about the Bible.
Paul was able to remind Timothy of "how from infancy you have known the Holy Scriptures, which are able to make you wise for salvation through faith in Christ Jesus" (2 Timothy 3:15). What a joy to imagine that, one day, the same might be said of your children!
We recommend God's Big Promises Bible Storybook, for toddlers, preschoolers, and early readers. Written by Carl Laferton, author of the bestselling The Garden, the Curtain and the Cross and illustrated by Jen Davison, whose artwork shapes the Very Best Bible Stories series, God's Big Promises Bible Storybook is both biblically faithful and beautifully engaging.
92 foundational Bible stories, faithfully told and beautifully illustrated, which point to the one big story of the Bible—God making and keeping his promises.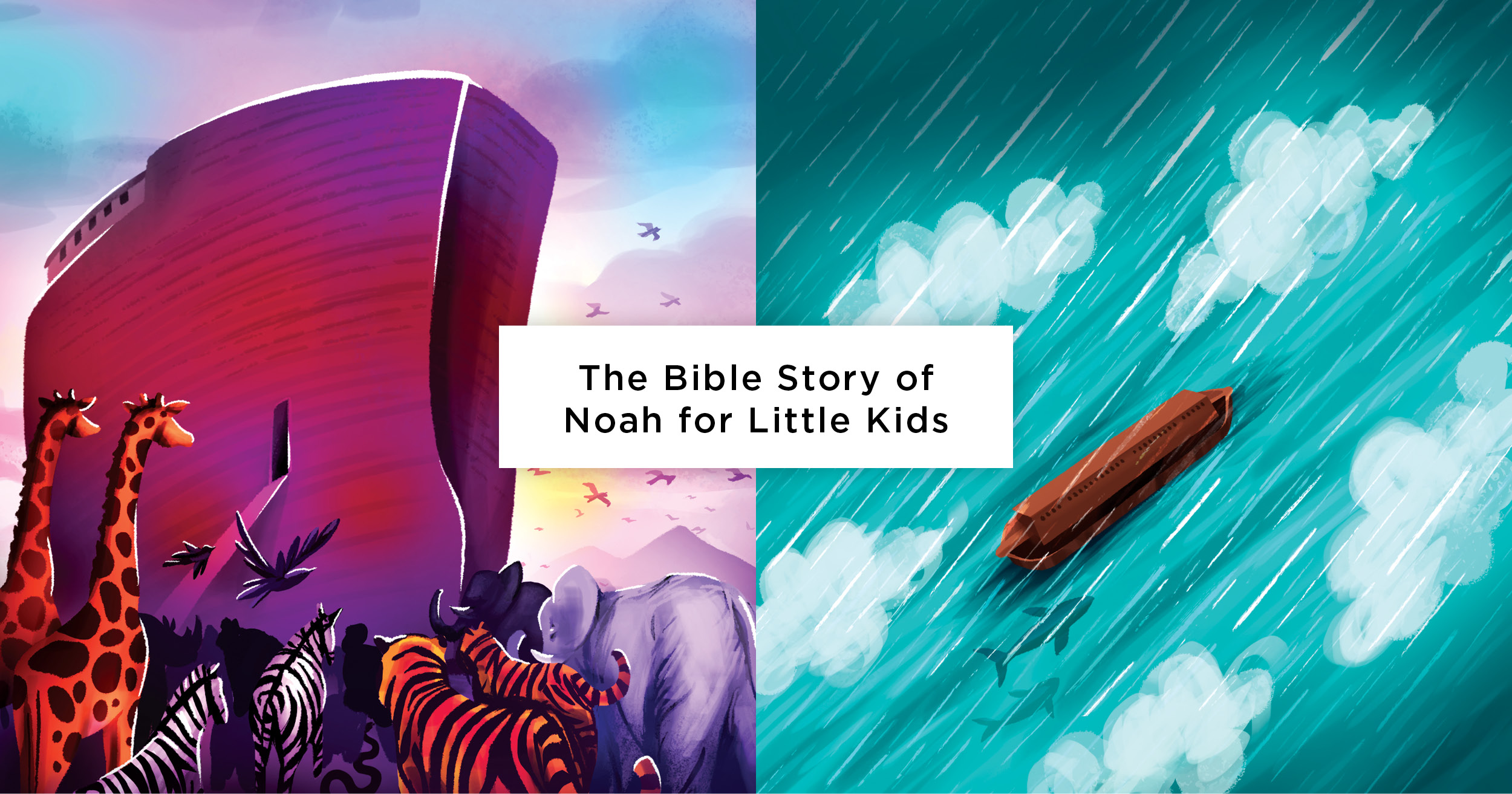 The following is a sample from God's Big Promises Bible Storybook, which includes 92 foundational Bible stories, faithfully told and beautifully illustrated. The stories point to the one big story of the Bible—God making and keeping his promises.
>> Look out for two icons: one signals that God has made a promise to rescue, the other that God has kept His promise! Icons like these feature throughout the Bible storybook to form promise paths. <<

To see more examples of the stories included in God's Big Promises Bible Storybook, check out the look inside PDF. You can also find more info, freebies, and related resources here. 
92 foundational Bible stories, faithfully told and beautifully illustrated, which point to the one big story of the Bible—God making and keeping his promises.
Walk into any Christian bookshop, and you'll see a dazzling array of books and resources for children. Story books. Picture books. Bible jigsaws. Crossword collections. Activity books. There's plenty to choose from. Nestled among them will be an ever-growing collection of children's Bibles—most of which look great, with shiny covers and appealing pictures. But when it comes to Bibles for children, "all that glisters is not gold"!
Whether you are a parent, godparent or children's leader, you will want the children in your care to come to know the Lord for themselves—through his word. So any children's Bible you choose for them needs to support that aim, not hinder it. Here are some principles to guide you, so that you can browse the bookshelves with confidence.
Starting Out
Imagine a family with three children, aged 3, 8 and 13. There's a wide range of books on their bookshelf, from picture books for the three-year-old up to teen novels and magazines for the teenager. No one would expect these three children to read the same things. However, we can tend to think that one children's Bible will serve a child right through childhood until they're ready to graduate to the NIV!
In reality, we need to look at different Bible versions for each age group. As a general rule of thumb, infant Bibles (under 7s) are actually books of Bible stories, juniors (7-11s) need a full Bible in a child-accessible version, and teenagers will use an adult Bible in a good modern translation.
Which Bible to Choose
There is no such thing as a "perfect" translation. Even the ESV, seen by many as the most accurate of modern translations for adults, has places where scholars question its choice of words. When it comes to a Bible for children, there will always be a balance between accuracy of translation and accessibility of language. The more that a writer uses concrete ideas and words that children easily understand, the more you may find they have obscured the original meaning in the process. It's up to you to decide how that will shape your choice of Bible version—but here are a few pointers to look for:
Infant Bibles (under 7s)
These are collections of Bible stories, so start with the contents page. How many stories are included? Are there enough to introduce your child to a good range of Old and New Testament events? Look to see which stories have been included, and which left out. Has the writer linked events together to show the "big picture" of the whole Bible, or are they written as separate, stand-alone stories?
Check how the writer covers key Bible events. Start at the front to see how they handle the garden of Eden. How do they describe sin, and God's response to it? Look at the beginning of the New Testament, and note how the Christmas story is presented. Is there any link with the bigger picture of God's promise to send Jesus as the new King? Then find the Easter story to see how they handle Jesus' death on the cross.
Read a few stories through, and check how they are written. Are they a paraphrase of the Bible account, rewritten in simple language—or has the writer added extra material? And if they've added things, what has been added? Some writers will insert questions, or extra description, to help a young child engage with the story. Others add comments about what's happening in the story and why. Some will put words in Jesus' mouth, imagining what He might have said in a particular situation. Be particularly cautious about writers who add things to a story. As an adult, you will know what's really part of the Bible story, and what is extra. But a child will not!
For example, one infant Bible tells the story of Jacob cheating Esau out of his birthright, and then fleeing to his uncle. On the way, Jacob has a dream of a ladder stretching from heaven to earth. So far, so good. But according to this particular version, Jacob has a difficult journey which includes a scary encounter with a wolf! There's even a fantastic picture of the wolf for the child to focus on and remember. Sadly, when you check for yourself in Genesis 28, the wolf is nowhere to be found. But a child may remember it forever…
This example shows how pictures can sometimes give an unhelpful focus to a story. But good illustrations are a joy to look at and help to support the words. They may also include extra details from the full Bible account—extras that a child who already knows the story well can enjoy noticing. Bible stories introduce us to people and events from thousands of years ago. Good illustrations can help a child to see that these events happened to real people in a real place and at a real time in history.
You may also want to look at how certain people and events are illustrated. How are Adam and Eve, and the serpent, shown? Is Daniel drawn as young or old in the den of lions? (He was over 80 at the time.) Do the New Testament stories include pictures of Jesus, and if so, are you comfortable with how he is drawn? Is the crucifixion shown in a way that is appropriate for your child? Children who are not yet reading for themselves may flick through an infant Bible engrossed in the pictures. So let's make sure those illustrations give them a biblical feast to enjoy. 
Junior Bibles (7-11s)
With older children, you'll be looking for a full Bible. But be aware that most children's Bibles are in fact adult translations, with a new cover and some pictures. That needn't be a bad thing, but it's worth bearing in mind that most children's Bibles weren't translated with children in mind. An exception to this is the International Children's Bible (ICB), which was translated from the original languages specifically for children.
With a junior Bible, start by reading the introduction. This will tell you what the main aims of the translation team were and will give a feel for the kind of translation decisions they made. Then look at some key stories or verses to see how they have been phrased. You may find it helpful to have a good adult translation with you so that you can compare passages.
Look at any additions to the Bible, in the form of maps, charts, pictures etc. These can often be helpful, but your top priority must be the Bible text itself, rather than any add-ons. Some junior Bibles come in the form of study or "Adventure" Bibles. These are worth a look, but be cautious. Sometimes the extra information distracts from the main point of the text.
Youth Bibles (12+)
This article looks at children's Bibles, but most of the principles apply to youth Bibles as well. Most are actually an adult version with a new cover and some fact boxes. You will find that the fancy cover can add a lot to the price! Be especially wary of youth Bibles with fact boxes, since your teenager may be tempted to look there for the answers instead of in God's Word. For most teenagers, a good modern translation, such as the NIV, will give a high level of accuracy while using language that is accessible for the age group.
Over to You…
Please apply the above principles for yourself, bearing in mind the reading age of your child. Some of the things I have mentioned are hard to assess if looking at a Bible online. If you don't have a Christian bookshop near you, then maybe ask a friend whether their child has a good Bible they would recommend. In my experience, most children are given several Bibles, so you may even be able to pop round and have a browse on their bookshelf.
One Bible I would like to recommend is God's Big Promises Bible Storybook, written by Carl Laferton and illustrated by Jennifer Davison. This beautiful infant Bible has a good spread of 92 stories showing how the Bible is one big true story. It is the story of how God made and kept amazing promises. It also has colourful clues throughout to help your child spot God making and keeping all his promises. Highly recommended!
Alison Mitchell
Senior Editor, The Good Book Company
Have you tried incorporating a devotional into your quiet time before? What about into your sermon prep or family Bible time?
Many of us struggle to balance our busy schedules with as much time in God's Word as we'd like. Or we want to dive deeper into the text, but we're not sure where to begin. If you're like me, you struggle to develop Bible-reading habits without becoming legalistic about how much time you're spending with God. 
Luckily, we have lots of devotional options that speak to each of those needs, and more. If you'd like to try out a new devotional (or gift one to a loved one!) but you're not sure which one to start with, take our quiz!
Personalities
You can browse all of our devotionals at this link.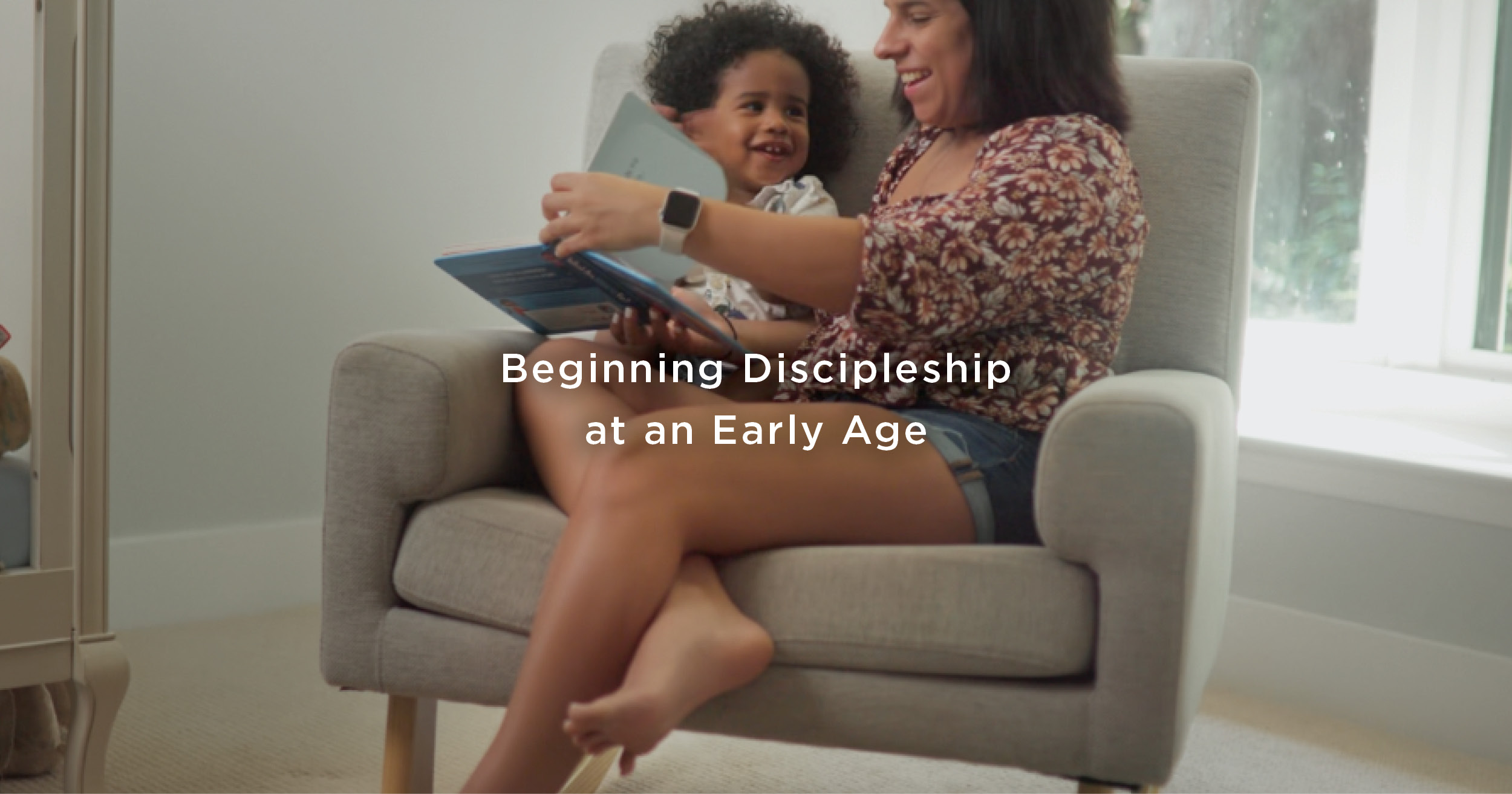 "When should I begin discipleship with my child?"
This is a question I receive often, and I always offer the same response, "You already are."
The word discipleship comes from the Greek word "to teach." And as the old saying goes, more is caught than taught. The way that our kids see and interact with the world is shaped by how they see us living. They learn to value what we assign value to with our time and money. The way that they view themselves is shaped by our care for them. The way they interact with others is shaped by our interactions with others.
Even if you don't feel like you're being intentional, you're discipling your children. So the better question might be, "Since I already am discipling my child, how do I do that well? How do I make sure that I'm training them up in the love, grace, and truth of God?"
Begin with Yourself 
You can teach your kids Bible verses and catechism questions until you're blue in the face, but if you are not devoting time to God's word and being formed by it, you're just being a hypocrite.
My children emulate their dad and me all day. Our work is their play. They mow the grass, unload the dishwasher, want to help in the kitchen, pretend they're doing our hobbies. My kids also play church and pretend to read the Bible beside me in the morning. This affirms the reality that discipleship has already begun, and therefore points to the need for our own personal faithfulness.
The primary way to be a disciple-maker for Jesus—really the only way—is to be a disciple of Jesus yourself. You can teach your kids Bible verses and catechism questions until you're blue in the face, but if you are not devoting time to God's word and being formed by it, you're just being a hypocrite. You can teach your children the Lord's prayer, how to pray, and verses about prayer, but if prayer is not something that you do with them and for them, if it's not a part of your family life, will they really see it as valuable or essential? You can teach them about repentance, reconciliation, and conflict resolution all day long, but if they never hear you apologize to them or others, if they listen to you vent about how wrong other people are, then are they really going to see humility, forgiveness, grace, and charity as qualities to cultivate as a Christ follower?
Parenting has as much to do with modeling as it does instructing (or correcting). To be honest, the thought of my sons imitating me is a little disconcerting. It always made me a little uncomfortable when Paul told the church at Corinth to "be imitators" of him (1 Corinthians 11:1). How arrogant, right? But the thing that Paul understood is that growth in grace happens as we watch and emulate more mature believers. And this is why the second part of his phrasing is so important: "Be imitators of me," he says "as I am of Christ."
Our primary calling as Christian parents is to remain faithful to Jesus, desiring to be with him, and by the power of the Holy Spirit becoming like him more and more.
Somehow, God uses the faithfulness of his fumbling followers to help those behind them learn what it means to live for him. This is his design for discipleship: not curriculum on life, but life on life. Our primary calling as Christian parents is to remain faithful to Jesus, desiring to be with him, and by the power of the Holy Spirit becoming like him more and more.
Train Them the Truth
So yes, much of discipleship is informal—just living life alongside each other. But there is also a place for formal discipleship in the lives of our children. I recently read an Instagram post in which a woman advocated for introducing your child to God as a person instead of just pumping them full of information—but God reveals himself through his word, he speaks through his word, and so if we want to introduce our children to him, the Bible is the best place to start.
We memorize verses with our kids that help them to relate to God as their Creator and Father. It is in that context that we teach them his commands for their lives, loving instructions from the one who has the greatest right to give them as their Maker and the one who cares for them better than anyone else in their lives. We memorize verses with them that teach them how to relate to Jesus as their friend, mediator, and redeemer. We memorize verses with them that help them to see the Holy Spirit as a source of comfort, conviction, and help to fulfill all that God asks them to do. God's word is the lens through which we help them to see God's world with accuracy.
Kids have an uncanny ability to memorize with repetition, and they like it! It's why they ask to listen to the same song on repeat, or read the same book over and over. To expose them to catechism questions that help shape their identity, or songs that help them hide God's word in their hearts, isn't pumping them full of information they aren't ready for, it's filling their hearts with treasures that they can mine as they grow in their faith. If we think it's worthwhile to teach them their numbers, letters, and colors, we ought to teach them who God is, what he has done for them, and how he'd like them to use the lives he has given them.
Meet Them Where They Are
Throughout the New Testament, we see Jesus meeting people where they are over and over. We ought to do the same with our closest, littlest neighbors as we seek to love them. I want my two-year-old to learn how to unload the dishwasher, but I'm not going to ask him to put away glassware on the top shelf. In the same way, it's not realistic to ask him to listen to a 45 minute sermon, or maybe even a 10 minute story.
Meeting our children where they are requires considering the way that God designed them to develop. Of course we want them to grow in their ability to sit still and listen, but if we want them to love God and to get excited about the Bible, then we have to be careful not to cause them to associate spiritual things with negative experiences. We must be incredibly careful not to allow our relationships with our children to suffer in the name of formal discipleship.
As parents, one of the greatest privileges we have is to introduce our children to new things, and the most wonderful things we can introduce them to are the person, words, and work of Christ. So go enjoy that endeavour! Sing, dance, play, read, and learn alongside your child. It's never too early, or too late, to begin teaching your child about Jesus.
For practical discipleship tools for toddlers and young kids, check out Abbey Wedgeworth's series Training Young Hearts.

Practical, fun tool for parents raising toddlers. Encourages obedience motivated by God's love and grace.

Practical, fun tool for parents raising toddlers. Encourages obedience motivated by God's love and grace.